PUPPY LOVE...
Abandoned pups are reunited with their mother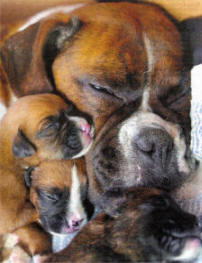 The puppies are reunited with their mother. Pic by Alan Lewis, Photopress.
A SAD tale of eight little puppies abandoned in Poleglass last weekend has ended happily after they were reunited with their mother.
When the puppies were discovered in a bag tied to a gate there were fears for their health and the health of their mother. However, the story had a happy ending when the mother was found and rejoined her pups.
On Monday (July 27) Lisburn City Council's Dog Warden, in conjunction with the police, recovered a dog under the provisions of the Welfare of Animals Act.
After being examined by a vet and receiving some treatment, she was reunited with her puppies and is said to be feeding and cleaning the offspring.
The specialist volunteer who is currently caring for the recently reunited family said: The mother has taken to her pups with great enthusiasm, although at first she was totally bewildered by her situation and the events of the day. When they were first reintroduced she had joy in her eyes and a look of ecstatic disbelief, as I do not think she could believe her luck at seeing her pups again.
"The mother is currently on medication to treat an infection, which resulted after the birth of and subsequent separation from the pups.
"She is feeding all the pups though I will still be providing supplementary feeds to them until her milk supply is adequate for all the daily feeds required by the pups in this early stage in their lives. It is excellent that the pups are now benefiting from the immunisation in the mother's milk and the two pups which had been becoming progressively weaker are now making up lost ground. She is cleaning the pups and toileting them all on her own, they have never been so clean.
"The first night was a success and all of this little canine family are doing well. I would like to take this opportunity to thank the Council Dog Wardens and the Police Service of Northern Ireland for their assistance in reuniting the mother with her pups, providing them all with a new start in life," he concluded.
julieann.spence@uisterstar.co.uk
Ulster Star
31/07/2009