Queen's Birthday Honours bestowed on local people
Lifetime's service to engineering earns Fred an OBE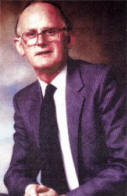 A LIFETIME of hard work and service to the engineering industry has seen local man Fred (FG) Wilson recognised with an OBE in the Queen's Birthday Honours List.
Fred, who was born in Moira in 1926, and now lives in Lisburn, began his working life as an Apprentice Fitter in Coomb Barbour Textile Machinery Factory in North Howard Street, Belfast and was in business and self-employed by the age Of 18.
Dedication and commitment have been at the forefront of his thinking throughout his career and his entrepreneurial skills were put to the test in 1958 when he purchased the Island Shipping Company factory in Lisburn, employing ten people, following some years as a scrap metal merchant.
By 1960 Fred had invented and patented the Wilson Foldfork, a then revolutionary Forklift Truck attachment for fitting to a conventional lorry.
In 1966 he formed FG Wilson (Engineering) Ltd after purchasing the Coomb Barbour factory where he had previously been apprenticed.
In 1970 FG Wilson designed the first diesel electric generator sets, which were soon put to use when major power cuts in the Republic of Ireland saw demand for the product increase. Meanwhile, the Miners strike in the UK saw huge demand for generator sets, with turnover multiplying by ten times in one year.
Fred soon forged links with suppliers in the USA, the Middle East and Nigeria before supplying the first power station sized generator to Dubai in 1978.
The company won the first of its three Queen's Awards for Export in 1989 and it continued to go from strength to strength employing 1250 people in 1994.
In 1999, aged 73, Fred sold the technology and patents of his product line up when he retired. However, the 73 year old was unable to hang up his entrepreneurial hat, starting another new business within the year.
Fred formed Mobile Equipment Enclosures which manufactures a range of golf buggy products, designed by Fred himself. Now fast approaching 83 years old, Fred is still in attendance at the business almost every day.
He was recognised for services to Entrepreneurship and to Engineering.
Hillsborough professor's honourable secret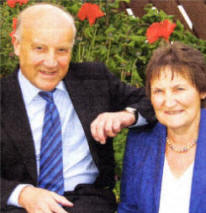 THE family of a Hillsborough professor were delighted this week when it was revealed he had been keeping a very honourable secret.
When the Queen announced her Birthday Honours List the family of Professor Terry Lappin were amazed to find out their father had been awarded an OBE, but the first thing they did was tell him off for keeping the honour a secret for the last four weeks.
It came totally out of the blue," said Terry. "We were going to a wedding four weeks ago and a letter came though the post saying they would like to confer this honour.
"I've always read the list with interest but I never ever thought I would be on it."
Terry was a pupil at Brownlee Primary and Friends School Lisburn, before going on to study Chemistry at Queens University. After graduating in 1966 he began working as a Biochemist at the Royal Victoria Hospital.
In 1997 he was appointed as Chair of Haematology at Queen's University.
Explaining his work Terry said: "I work on serious blood diseases such as leukaemia and have about 25 people working in the research group."
He also works closely with the Northern Ireland Leukaemia Research Fund and has nothing but praise for the local fundraisers.
"The Fund has supported all the work I've done over the last 40 years," he said. "They have a strong branch in Lisburn and pupils at Dromore Central Primary School recently raised a lot of money for the charity."
Outside work Terry is a sports fan, having played hockey for Lisnagarvey in the past. However, now he leaves the playing to his son Mark and just watches from the sidelines.
Now Terry, his wife Jill, and children Andrew, Julia and Mark can start looking forward to their visit to Buckingham Palace later in the year.
Principal of St Colm's 'delighted' by OBE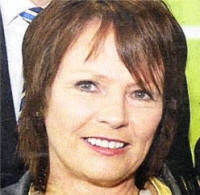 THE Principal of St Colm's High School in Twinbrook, Imelda Jordan, has spoken of her delight at being awarded the OBE for services to education.
However, she said the award was not just for her but was recognition for the continuous work and support she receives from the staff, pupils, parents and community of Twinbrook and Poleglass over many years.
Imelda joined St Colm's High School as an English teacher in 1977 and has been principal for the past ten years. During that period she has seen many positive developments in the life of the school and is particularly proud of the high academic achievement of the pupils.
As an educationalist, she has a particular interest in learning from best International practice which drives school improvement and to that end has been involved in education fact finding trips to Sweden, Italy England and Wales. She has contributed to range of Leadership Conferences as a Guest Speaker and holds a Masters Degree in Education which focused on Literacy Skills. As a pilot school in the development of the Revised Curriculum, St. Colm's offers a wide and varied range of subjects and opportunities to sup ort and enhance the opportunities for pupils. It also provides an expansive menu of extra curricular activities financed by the school and the Children and Young People's Package (CYPP).
Imelda expressed her pride in all that the school has become and added: "This award is really in recognition of the tremendous work and commitment of all connected with St. Colm's. I am delighted on a personal level but particularly pleased that this aware reflects the quality and dedication of teachers and parents in making St. Colm's the high achieving school it is today.
"I can truthfully say that I look forward to going to school each day because of the special people with whom I come in contact."
Ulster Star
19/06/2009