Hospital room with a view inspired Jayne
to do something amazing to tackle cancer
by JENNY MONROE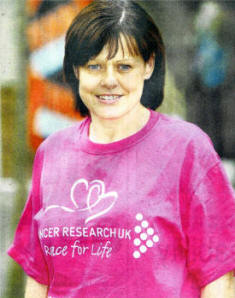 A LISBURN woman who was inspired to take part in the Race for Life at Stormont last year after looking out at the Belfast landmark from her hospital ward while being treated for cancer is urging other women to join her for this year's event.
Jayne King is inviting women from across the province to do something amazing to help more people survive the disease by registering to walk, jog or run 5k at the Cancer Research UK event on Sunday May 31.
Jayne said she decided to take part in Race for Life 2008 after being diagnosed with breast cancer in April the previous year.
"I had my mastectomy in Belfast City hospital in May 2007 and whilst I was there I could see Stormont building from my window. I mentioned to my room mates that we should all do the Race for Life the next year.
"I finished my Chemotherapy and Radiotherapy in December and had another operation in January 2008 which wasn't cancer related and quickly set about building up my strength to enable me to take part in the race."
Sadly, a family friend died in February 2008 of bowel cancer and Jayne decided to run Race for Life in memory of him.
She was accompanied to the event by her husband Nigel.
"It was very emotional and I cried buckets when my husband pinned my race number on my t-shirt. The most fantastic feeling of all was getting to the top of Stormont Hill and seeing Belfast City Hospital in the distance, raising my bottle of water, toasting all the doctors, nurses and staff and thanking them for giving me my life back and saving so many more lives."
Jayne's sponsorship came from friends and family, with her Dad donating £300 in lieu of his 70th birthday presents.
Now Jayne, who has already signed up for this year's event, is encouraging other women to follow her lead.
She said: "I was devastated when I was diagnosed with cancer. But thanks to research, I am here today. I want to invite women in Northern Ireland to do something amazing by registering for Race for Life and asking their friends, sisters, mothers, daughters and colleagues to take part as well."
Cancer Research UK's Race for Life 2009 is the UK's largest women only fundraising event series. Women of all ages and fitness levels are invited to sign up.
Women in the Northern Ireland are invited to enter Cancer Research UK's Race for Life at www.raceforlife.org or by calling 0871 641 2282.
Ulster Star
06/03/2009