RAF challenge all adds up for SaintField pupils
by AUDREY GREGG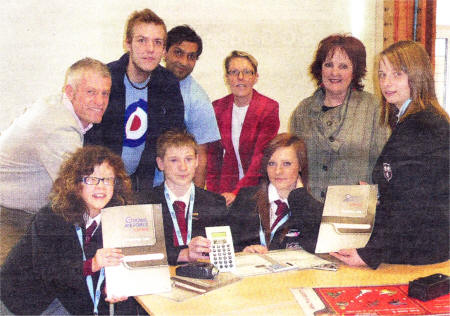 RAF Corporal Richard Swallow, David Hughes and Taresh Solanki, Workshop Facilitators, Mrs. Wilma Johnston, Maths Teacher and Ms. Vivien Watt, Principal congratulate Katie Jebb, Ben Stoneman, Emma Shenton and Hannah Cranston the winners of the RAF Maths Challenge held in Saintfield High School recently.
SAINTFIELD High School hosted the RAF Maths Challenge Workshop recently and it was an outstanding success with pupils finding their assembly hall transformed into a temporary RAF base in an attempt to make maths more exciting and demonstrate its relevance in the workplace. Corporal Richard Swallow, accompanied by workshop facilitators David Hughes and Taresh Solanki, set up a variety of tasks for the pupils who were working in teams of four, in the context of RAF scenarios showing the importance of maths in RAF life.
The hands-on curriculum linked activities, which were all strictly timed, included calculating prescription codes in an RAF Field Hospital, using decibel meters to measure noise levels for Health and Safety, calculating the cooking times of different foods, using data from the flight crews to work out how often each maintenance procedure must take place, designing a temporary landing pad for a Chinook helicopter to bring in supplies and equipment, loading various cargo shapes of different sizes into a cargo hold and plotting co-ordinates to arrange the flight plan for an important mission.
Maths teacher Mrs. Wilma Johnston thanked Corporal Swallow and his team for bringing the workshop to Saintfield High which was the only school in County Down to host the event.
Ulster Star
24/04/2009