Family's big thank you for hospital's help for their little boy
£1,000 raised for Royal who helped nurse baby Reece
during recovery from life saving operation
by MARY MAGEE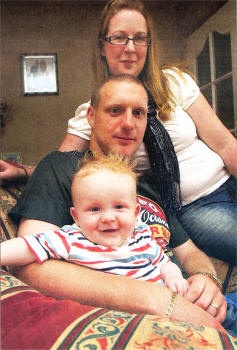 Wayne and Karen Orr with son Reece. US3109-105A0
THE family of a little Lisburn boy who underwent lifesaving brain surgery last month has raised £1,000 for the Royal Hospital for Sick Children to thank them for his treatment.
Seven-month-old Reece Orr, from Knockburn Grove, was born last December with a fluid cyst on his brain.
The abnormality was first detected when his mum Karen was just three months pregnant during a routine scan at Lagan Valley Hospital. Karen and Reece's dad Wayne were told their unborn child would have to be monitored closely until December when he born by caesarean section before Christmas, at the Royal Victoria Hospital. The tiny baby then had a series of MRI scans and ultrasounds to monitor the growth of the cyst. These showed it was putting pressure on the right side of his brain and in May, when Reece was just five months old, doctors decided to operate. Reece had been suffering from headaches, was unusually irritable and would cry sorely for no reason and Karen and Wayne were warned the cyst could rupture at any stage. On June 1 Reece went through the three hour operation at the Children's Hospital to puncture the cyst.
The operation went well but there was a large bleed to the main vein in his skull and he lost a lot of blood. He was left with a four inch cut and had 26 stitches down his skull. Remarkably, after just ten days he was well enough to return home..
His parents were told he could develop epilepsy and there is even a possibility the cyst could return.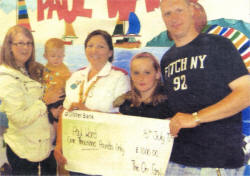 Little Reece Orr with parents Karen and Wayne and ten-year-old Victoria Lindsay present a cheque for £1,000 to Sister Freda Stewart of the Paul Ward at the Royal Hospital for Sick Children. The money was raised by Wayne and Victoria who took part in the Lisburn Fun Run.
Karen described the whole ordeal as a 'nightmare' which she hopes she will never have to go through again.
"I am just so glad that it was detected when it was," she said. With Reece being so young he won't remember what he has gone through, if he had been a little older he may have remembered the ordeal and been scarred for life.
"We have been told that without the scan it may never have been detected. There are
literally thousands of people walking around with this type of thing and without a scan you would never know that it exists. "Reece was great after the operation but he did lose a lot of blood so it was amazing that after ten days he was allowed home." Karen said that he will still be monitored closely to check that the cyst does not return.
' He has been through so much and I just hope that he will not have to go through this again," she said. "He has progressed well and is doing everything he should be doing and is back onto solids again. His head is measured to make sure that it does not grow quickly and to make sure that the cyst has not returned."
Delighted with the care and attention the staff gave to their only son, Karen and Wayne decided to do something for the hospital.
So just days after the operation Wayne and niece Victoria Lindsay took part in the Lisburn Fun Run and raised £1000 for the neurosurgery ward - The Paul Ward - that Reece stayed in during his recovery.
"Victoria was doing the fun run for her school at Largymore and then asked Wayne to do it with her. We thought that we would get around £300 tops so we were surprised and delighted to raise £1000" said Karen.
Ulster Star
24/07/2009