Regal role for Mary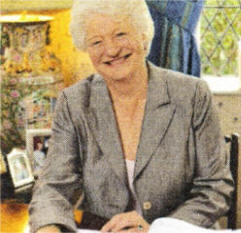 OLYMPIC legend Dame Mary Peters is to become the Queen's representative.
The hero of the 1972 Games in Munich, where she won gold in the pentathlon, has accepted an invitation to take up the role of Lord Lieutenant of the County Borough of the city. The 69-year-old will replace Lady Romayne Carswell when she retires in August.
Mary, who lives in Lisburn and already has a Belfast athletics track named after her, said she was extremely humbled by the latest honour.
"I just find it quite amazing that I should be put in this position," she said. A wee girl from a very average background to be the Queen's representative in Belfast is just extraordinary, I feel very humbled by it."
The three-time Olympian acknowledged her appointment was somewhat of a break with tradition.
"I would say a lot of former Lord Lieutenants have been from the aristocracy," the former secretary said. "And I just think that maybe the time is right for somebody with a different background to take on the role. Lady Carswell is a very hard act to follow and I'm a great admirer of hers and she has great dignity and poise."
Ulster Star
10/04/2009