Romanian children enjoy camp thanks to locals

The group from Lisburn who travelled to Romania this summer
to hold their annual summer camp.
LISBURN couple Gordon and Lisa Armstrong brought some summer fun to children in Romania recently when they took part in their annual visit to the country.
Gordon and Lisa joined a group of 13 volunteers from the local area for their fourth visit to Romania, where they held their third annual summer camp.
The couple first visited Romania when Lisa, who is a P1 teacher at Ballymacash Primary School, paid a visit to one of her colleagues who was undertaking missionary work in the region.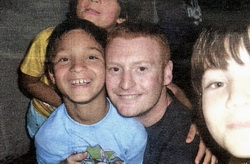 Since then they have dedicated themselves to fundraising throughout the year and spending time each summer teaching the children at a fun 'Moral Camp'. Gordon, who works for the Northern Ireland Fire Service in Belfast, described the conditions the children face in their daily lives, with simple wooden shacks and very little running water, as "almost like a third world country".
"This is actually the fourth time my wife and I have been out," said Gordon. "We first went over to visit a friend of my wife's from Ballymacash School who spent two years working as a missionary and since then we have held a summer camp, which is almost like a Bible camp, each summer."
A number of the couple's friends and colleagues join them each year, and the group of locals has raised approximately £30,000 throughout the years for the US based Livada Charity.
This year the group raised £8,500 for Livada, which has set up group homes to take children out of State orphanages and give them a loving home, as well as providing proper medical care.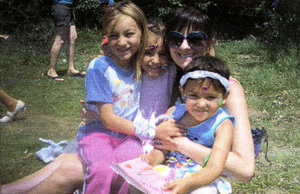 "This year's camp was slightly different," Gordon said. "The children are all under state care and because of media reports abroad, we weren't able to take them to camp for long; we only got two or three days with them. Instead we visited a Gypsy village where the children are even worse off. We weren't able to take them to camp but we took them on a bus each day to a nearby forest."
The group worked with 150 children aged from 4-16. Gordon continued: "Because of State laws you can't hold a Christian Camp, but we held a Moral Camp teaching Christian morals. The children learnt how to treat each other, how to have respect for others and themselves."
At the end of the camp each child was given a goodie bag with a number of essentials inside, such as a toothbrush and paste, soaps and some fun games.
It is essentials like these, as well as clothes, that the children lack and Gordon and Lisa spend each year buying items and appealing for such goods to take with them on their visit.
"Each year we fill the smallest case we take with our clothes and fill the big cases with children's clothes such as t-shirts, jumpers and underwear. Each summer the weather in Romania is like ours or a bit warmer, but in winter the children face up to three or four foot of snow; it's shocking," said Gordon.
"Something we find each year when we come back is that people are already thinking about how they can raise more money for next year and what they can bring with them. We spend most of the time thinking about what we can blag off people and we get a lot of help from work," he concluded.
stacey.heaney@ulsterstar.co.uk
Ulster Star
21/08/2009