Australian support for Rowandale Integrated Primary School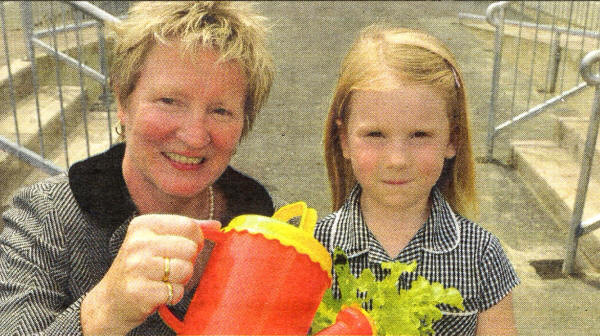 Pupils attending Rowandale Integrated Primary School in Moira were paid a special visit by Teresa Keating, Executive Director of the Australian Ireland Fund and Sir Warwick Fairfax Trust on Monday 15th June. The Australian Ireland Fund's generous support of over $1 million for a number of integrated school projects has helped develop the growth of integrated provision in Northern Ireland. Pictured with Teresa is pupil Mia McAviney (5) at Rowandale Integrated School. Photo John Harrison. John Harrison/Harrison Photography
PUPILS attending Rowandale Integrated Primary School in Moira were paid a special visit by Teresa Keating, Executive Director of the Australian Ireland Fund and Sir Warwick Fairfax Trust.
The Australian Ireland Fund's generous support of over $1 million for a number of integrated school projects has helped develop the growth of integrated provision in Northern Ireland.
The Australian Ireland Fund and Sir Warwick Fairfax Trust are supporting Rowandale to attain a unit to provide much needed facilities for a library and resource area, which will be benefit the children and staff. The facility will be dedicated and named in honour of the Sir Warwick Fairfax Trust and the Australian Ireland Fund.
Teresa Keating commented: "It was fantastic to come and visit Rowandale. The school has battled long and hard to get to where it is today and is clearly going from strength to strength. It was wonderful to see at first hand the quality of education on offer and to witness all the young children learning side by side. Such achievements send out a clear message of hope and optimism for the future of Northern Ireland. The Australian Ireland Fund and Sir Warwick Fairfax Trust alongside our friends in The Integrated Education Fund in Northern Ireland are proud to have played a part in helping the school develop successfully." Ms Frances Hughes, Principal of Rowandale IPS said: "It was a tremendous honour to welcome the Teresa Keating from the Australian Ireland Fund to our school. We are thankful for their generous support, which has made a real difference to our children's education and help meet the needs of our pupils for many years to come."
Ulster Star
10/07/2009