Stadium decision thwarts RUAS Maze move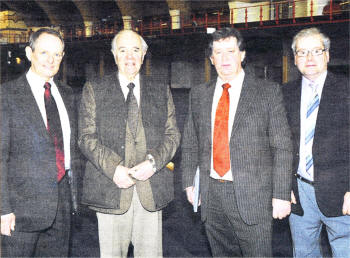 THE Royal Ulster Agriculture Society (RUAS) has said its plans to move to the Maze is being thwarted by the decision not go ahead with the national stadium.
It was revealed at the RUAS' recent AGM that the society was losing in excess of £3,500 a week at its current Lisburn Road location.
The RUAS annual meeting revealed that the society, which runs not only the Balmoral Show but also events at the King's Hall and showgrounds, recorded a deficit of over £186,000 in 2008.
The organisation has been planning for a move away from the existing location and has supported the now stalled development of the former jail site at the Maze.
However, the decision by sports minister Gregory Campbell to pull the plug on the project last month has left the RUAS plans in limbo.
Finance Committee Chairman John Bamber said last week: "It has been frustrating that our efforts to create the opportunity for a strategic move are currently been thwarted by factors over which we have no control."
He also said the situation had been exacerbated by a drop in the value of the showgrounds, despite gaining planning permission for a housing development. In December planning permission was granted for 140 houses on the Balmoral showgrounds, behind the King's Hall.
"I had hoped to be in a position to bring options to the members but unfortunately that is not likely to happen in the shorter term," he added.
However, the RUAS had a £23,000 surplus in 2007 and, despite the heavy operating loss in 2008, still has healthy cash reserves.
"We have increased our bank deposits from £2,071,784 to £2,247,083 along with investment holdings of £1,315,534 in medium risk contract," said Mr Bamber.
"The RUAS is prepared for the future and while figures will always have to be carefully considered and balanced we are up for the task that will face us in the period ahead."
julieann.spence@ulsterstar.co.uk
Ulster Star
13/03/2009