Royal visitors hear how Princes Trust
helped young Dunmurry woman realise her dream
by NEIL GREENLEES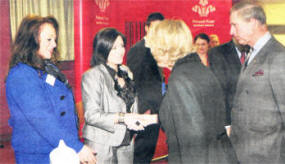 A YOUNG Dunmurry mother has told the Prince of Wales how funding provided by a scheme which was his brainchild more than 30 years ago has helped her realise the dream of setting up her own business.
Julieann McNally met the Heir to the throne and his wife the Duchess of Cornwall when they were introduced to a number of young entrepreneurs helped by the Princes Trust Business Programme at Belfast's Linenhall Library last week.
Not long ago Julieann was an unemployed single parent who feared a long history of joblessness would prevent her from obtaining the type of job she needed to improve her life.
She knew she wanted to start her own business but felt this was an unachievable goal. However, after identifying a gap in the market for a domestic and commercial cleaning operation she approached the Trust for support.
Her application proved successful and now 'Spic 'n' Span' provides a high quality, environmentally friendly and professional service to both the domestic and commercial sectors. Julieann said she initially felt her dream of owning her own business was slipping away.
"Without The Prince's Trust I would never have been able to. get my business up and running and I would encourage anyone with a business idea to contact them," she added. Julieann also said Prince Charles and the Duchess had been "very easy to talk with".
"He said he was very happy to see I had been able to get my firm up and running and was doing well and that I was an inspiration to other young people in similar circumstances," she added.
The Prince's Trust business programme is supported by Invest Northern Ireland and part-funded by the European Regional Development Fund, the European Social Fund and the Department of Employment and Learning.
Meanwhile, The Prince's Trust Northern Ireland is urging as many Lisburn people as possible to take part in the Belfast City Marathon on its behalf.
A spokesperson said the event provided an opportunity to 'get fit and raise much needed funds' to help the 3,000 disadvantaged young people in Northern Ireland it supports each year. These include young people who are unemployed, educational underachievers, ex offenders or those in care.
"There are many ways you can participate from the full 26 mile Marathon Run to the three mile Fun Run. Why not share the miles between friends or colleagues in a relay team?" she continued.
"Whatever way you decide to take part we will be on hand to support you every step of the way as you run to reach your goal and help local young people reach theirs."
Ulster Star
13/02/2009