`It will be your fault if I die'
Youths threaten 95-year-old woman with screwdriver
by MARY MAGEE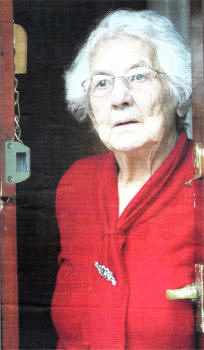 A terrified 95-year-old woman told youths who forced their way into her Lagan View home on Tuesday night and stole her pension money It will be your fault if I die.
Sadie Hillocks' granddaughter Judith Wilson said her 'fiercely independent' grandmother was left traumatised when two youths forced their way into her home on Tuesday evening around 6.30pm, asked her for drugs, ransacked her bedroom and then took money from her handbag.
She said that if the two youths knew the well-liked woman they would never have done anything to harm or terrify her in any way. The men made off with a few hundred pounds.
Judith described the robbers as 'heartless'. said if they knew her grandmother they would have left her alone.
She has the heart of corn," Judith said. She is a fiercely independent woman but this left her terrified and shaken."
The youths forced open the door using a screwdriver which they threatened the woman with. One of the youths made her sit on a chair while the other ransacked her bedroom in search for money. During the ordeal they asked her if she had any drugs in the house.
Though the woman did not put up a fight she kept telling them she was going to phone the police.
They took her pension money from her handbag and before leaving wrecked the cabinet in her sitting room in a last search for drugs or money.
When they left she went to a neighbour's house and they contacted her family and the police.
Judith said her grandmother insisted on going back to her home and even stayed that night.
"She wondered why the police would not allow her in. All she wanted was to return home again," she said.
"It shook her up and she cannot understand why it happened and why she was targeted. She is normally a very upbeat and positive sort of person but this has stunned her.
"It makes me feel sick that someone would do that to her . She is a very forgiving person but she is still very angry.
"She is just the best grandmother in the world and she did not deserve this."
MLA Jonathan Craig called the attack 'sickening.'
"This woman could not defend herself in any shape or form," he said.
"This is an appalling situation where these boys are targeting the most vulnerable in our socie-
Another MLA, Trevor Lunn, said: "A person's house is meant to be a safe place for them.
"To threaten a pensioner in her 90s with a screwdriver just shows the lack of respect for the elderly that these robbers have."
Lisburn Mayor Councillor Ronnie Crawford visited the woman on Wednesday morning. He thanked the Housing Executive for taking the swift action to secure her house after the incident.
"I hope that this has not traumatised her too much," said the mayor.
"It says a lot that these people did this just yards from the police station and were not afraid of being caught."
Anyone who witnessed suspicious activity or has information should contact detectives by calling 0845 600 8000, or ring Crimestoppers on 0800 555 111.
Ulster Star
30/01/2009