`NHS is failing patients with Muscular Dystrophy'
says Hillsborough mother
by JENNY MONROE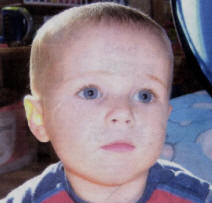 A HILLSBOROUGH mother whose little boy has Congenital Muscular Dystrophy believes the lack of provision for specialist care in the province has led to a number of families seeking treatment elsewhere in the UK.
Tracy McCausland, founder of the NI based charity Struggle Against Muscular Dystrophy (S.A.M), was speaking after a Parliamentary report this week slammed decision makers in Northern Ireland for effectively shortening the lives of children with the terminal muscle wasting disease Muscular Dystrophy due to failings in specialist care.
The All Party Parliamentary Group on Muscular Dystrophy heavily criticises the way in which the NHS plans services for rare conditions in Northern Ireland, following an in depth investigation, which took evidence from key clinicians, researchers, patients and NHS commissioners from across the UK.
Tracy explained: "The Walton Report highlights the shortcomings of NHS provision for children and adults suffering from neuromuscular diseases, a group of conditions which cause severe muscle wasting affecting the limbs, heart and respiratory system and for which there is currently no treatment or cure."
She says that since the retirement of Northern Ireland's only neuromuscular consultant over 18 months ago, her son Sam has had no access to specialised care.
"We currently know of 15 families who regularly have to make overnight trips to England to access services at the specialist muscle centre in Newcastle
"This is especially concerning in light of the fact that as the disease progresses the children suffer complications such as severe respiratory and cardiac problems which make travel impractical and dangerous", said Tracy.
"Due to a lack of NHS provision many parents are self-funding their children's physiotherapy services, and are being forced to rely on charitable funding for essential equipment such as wheelchairs.
"We would echo the call for an urgent review of services in NJ and encourage the establishment of a more proactive approach to treatment for these medically vulnerable children and adults".
Struggle Against Muscular Dystrophy is a zero cost charity founded last year whose mission is to bring life-enhancing treatments to this generation of muscular dystrophy sufferers.
The charity funds translational research into the condition.
For more details check out: www.pleasefixsam.com.
Ulster Star
28/08/2009