Remembering daughter who lived life to full
Sarah tragically passed away on Christmas Eve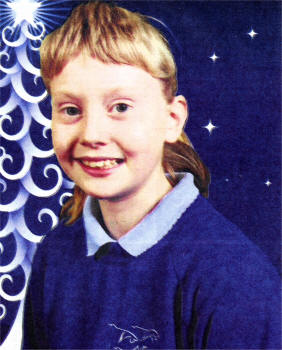 THE parents of a young girl who tragically passed away at Christmas have spoken of the full but short life their precious daughter lived.
Sarah Carleton-Andrews was only 11 when she died suddenly on Christmas Eve.
The pretty school girl battled a life long illness which affected her mobility and energy levels with courage, fortitude and resilience and spent her final days at her home in Annahilt with her mother and father Vivienne and Mark.
Although Sarah's medical condition made her appear frail, she possessed remarkable strength, determination and perseverance and an ability to overcome incredible odds and physical challenges.
Sarah, a pupil of Downshire Primary School, has been described by her family as a "bright, happy and caring young girl with a radiant smile". She had a "strong determined character and self motivation to succeed in life" and had planned to join Hunterhouse in September.
Her mother said she enjoyed every aspect of school life and had several special school friendships. Her friends described her as happy, caring, kind and thoughtful.
The talented little girl joined a guitar group in P6 and was honoured to play in two school performances. She was also a pupil at the Lisburn School of Music where she played the piano over a number of years. Sarah participated on a part-time basis at the Old School House After School Club at the Village Centre, was a fluent reader being a keen and regular member of the Dromore and Lisburn Libraries. She had a love for art and craft and was often a frequent visitor to the Island Arts Centre.
"She had a great love for the countryside and animals. She loved her ponies and donkeys and was a member of Ballyknock Riding School and a long standing members of the Donkey Breed Society in Northern Ireland for seven years, with her own donkey 'Son of Jacob'," said Vivienne.
Despite her physical challenges Sarah competed with sheer determination in both the ridden and hand classes, winning a life time's collection of ribbons, medals and awards. She was a previous winner of the Irish Donkey Society Award Cup and recently in November was presented the DBS Active Donkey Award Cup (GB) for being a tireless ambassador in promoting the positive attributes of the donkey in many community activities and raising the profile of the donkey in the eyes of the general public.
The Rev. John Davey performed a service to remember Sarah's short life at Hillsborough Presbyterian Church where she went to Sunday School. At the closing of the service Sarah's favourite song Any dream will do' was played by the organist. She was laid to rest in the New Cemetery in Banbridge beside her Papa Carleton.
The family very much appreciate the kind support from family, friends, Downshire Primary, Hillsborough Presbyterian Church and the Donkey Breed Society members both in Northern Ireland and Great Britain.
"Sarah's life would seem too short to many people but those who were touched by her life understood that the quality of her life far exceeded the quantity of time which she lived. She was an inspiration to all who knew her. She was a beautiful, special, remarkable daughter and will be deeply missed," said Vivienne. • Donations can me made if desired to the metabolic clinic, Royal Belfast Hospital for Sick Children, c/o Melville and Co, 195 York Road, Belfast.
Ulster Star
23/01/2009