School friends to be reunited after 50 years
EX-WALLACE PUPLIS INVITED TO MEET AGAIN HALF A CENTURY ON
by JULIE ANN SPENCE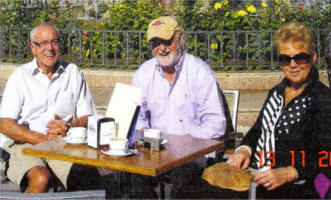 MANY old school friends arrange reunions after ten or 25 years, but a group of Wallace High School 'ould hands' are arranging a get-together at Lisburn Golf Club on October 23 -fifty years after they left their alma mater.
The idea came about after John Burrows organised a simple reunion with two fellow ex-Queen's students and their wives on a boat on the river Baise in France a few years ago. One couple came from Calgary and the other from Canberra.
Reflecting on the joy of such a meeting John thought that a reunion with old WHS pupils could bring as much joy as many of them had lost touch and many had not met in the half century since leaving school in 1959.
After a few phone calls he got in touch with James Logan and during their emails and chats found they both would be in the Costa del Sol in mid November last year.
They arranged to meet in the Plaza de la Constitucion in Fuengirola, shared a few coffees and craic and agreed to work together and attempt to put together a reunion.
Such has been the success of the search to date they have been able to fix a time and place for their event, a lunch finger buffet at
Lisburn Golf Club on October 23. The emphasis is on informality, a few nibbles to ward off the pangs of hunger while they rekindle friendships and begin condensing the passage of some 50 years into a few hours.
In recognition of the Herculean efforts of their teachers in their attempts to both educate and transform these pupils into useful citizens they all agreed to invite those of their teachers still among them and remarkably to date they have located and invited three ex-teachers.
Also invited is the wife of another, who was also school secretary during their time at the school.
However this list is not yet complete and John and James are very keen to hear from anyone who has not been contacted and is interested in attending. James can be contacted at 028 94462384, 07748654996 or email loganwilmar@yahoo.com and John at 0163 5278397 or email wjburrows@buckman.com.
julieann.spence@ulsterstar.co.uk
Ulster Star
29/05/2009