Scottish contract secures 100 jobs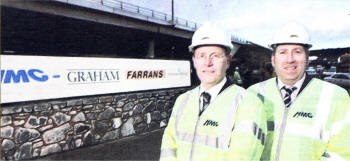 THE involvement of two of the Lisburn area's biggest employers in a major Scottish road project has secured at least 100 Northern Ireland construction jobs, many of them locally based.
Farrans Construction in Dunmurry and Grahams of Dromore which is shortly to relocate its headquarters to Hillsborough, are part of a Consortium which has reached financial close on Transport Scotland's M80 'Stepps to Haggs' Project. The consortium - Highway Management (Scotland) Ltd - also involves Bilfinger Berger with whom Farrans and Grahams collaborated on the Westlink improvement scheme.
Scotland's largest non-education project to date involves the construction of 18 kilometres of dual two/three lane motorway with associated slip roads and infrastructure between Stepps in North Lanarkshire and Haggs in Falkirk.
Farrans Joint Managing Director Eamonn Sweeney said the involvement of two of Northern Ireland's premier contractors' was 'yet another example of the level of expertise available in the Province to construct projects of international standards'. Mr. Sweeney who said the whole construction industry was currently going through a very difficult time added he was 'very pleased' the winning of the contract had secured so many jobs.
Leo Martin, Operations Director (Civils) with Graham reinforced that sentiment by adding: "Following on from the success of the Westlink project, this is an excellent opportunity for Graham and Farrans to continue their close partnership with Bilfinger Berger, to pool our knowledge and resources and to demonstrate that we in Northern Ireland possess skills and expertise that are as good as any in the business."
Transport Minister for Scotland, Stewart Stevenson said the country's government was "absolutely clear that an efficient transport system is essential for enhancing productivity and delivering faster, more sustain able growth.
This project is another example of how our continuing investment is helping the hard pressed construction sector, creating hundreds of construction jobs. It will also complete the missing gap between Stirling and Glasgow bringing real benefits to the surrounding communities and across the central belt as a whole," he added.
News of the two local companies involvement in the scheme was warmly welcomed by Lagan Valley MLA Edwin Poots.
He described it as "yet another example of the level of expertise available in the province to construct projects of international standards.
"It has been indicated that this project will secure one hundred jobs within the two companies and as many of the employees are locally based this is the sort of news we want to hear at a time when there has been so much bleak news about the economy."
Ulster Star
30/01/2009