Seat of local government likely to remain here
Hopeful new HQ will be in Lisburn
by JULIE ANN SPENCE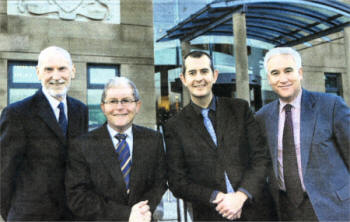 Pictured following a meeting of the Lisburn Castlereagh transitional committee, were Lisburn City Council, Chief Executive Mr Norman Davidson, Castlereagh Borough Council, Councillor Jim Hanvey, elected Vice Chairman of the transitional committee, Alderman Edwin Poots, MLA elected Chairman of the transitional committee, with Castlereagh Borough Council Chief Executive Mr Adrian Donaldson.
PREPARATIONS are now underway for Lisburn City Council's amalgamation with Castlereagh Borough Council in 2009 and the Chairman of the new transition committee, which will oversee the progress, has said he is hopeful the headquarters of the new Council will be in Lisburn. Lisburn's Deputy Mayor, Alderman Edwin Poots, who has been appointed as Chairman of the Transition Committee, with Castlereagh Councillor Brian Hanvey as the Vice Chairman, has said he is confident Lisburn City can remain as the seat of local government.
"There is a huge volume of work to be done given there is just over two years until the new council is established," said Mr Poots.
"The transition committee will oversee the bringing together of the administration of the two councils and will be appointing a new Chief Executive and new Chief Officers. "It is likely the council headquarters will be in Lisburn but there is also significant opportunity to use the offices of Castlereagh council for major meetings, such as the Planning Committee."
Mr Poots also said he was confident the amalgamated council will provide amalgamated value for money" for local people, who currently enjoy one of the lowest rate levels in Northern Ireland. "Both Lisburn and Castlereagh Councils have got an ongoing policy of striking low rates, continued Mr Poots. "This is a policy we will be seeking to continue, making the new council as cost effective as possible."
Ulster Star
30/01/2009