Police chief asks for patience as security is stepped up
PSNI AND ARMY TAKE EXTRA MEASURES ACROSS CITY
by JULIE ANN SPENCE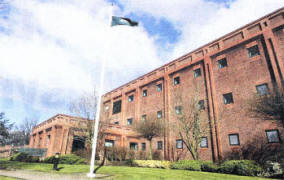 THE police have confirmed that security has been stepped up in Lisburn in the wake of the terrorist attacks in Antrim and Craigavon. Lisburn PSNI commander, Chief Inspector David Moore, said people could expect to see more vehicle checks and use of stop and search, but promised any inconvenience to local people would be limited to what is 'absolutely necessary' to deal with the current threat level in the city.
"Community policing is going to continue and we will continue our normal police activities," he said. "The security situation is under hour by hour review, dependent on the threat level.
"Lisburn is part of a general threat. There will be some changes to what we do and how we do it. Some of these changes will be obvious to the public and some will be unseen.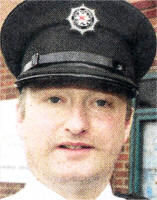 "One of the powers we will, of course, be using is Section 44 stop and search. This is sensitive and challenging both for us and the community.
"In Lisburn people will see that in the form of vehicles checkpoints, set up under carefully considered frameworks."
Mr Moore said he was also aware of the need to offer reassurance to the large military community in Lisburn and they had moved to do that.
Condemning the recent attacks and speaking of his pride in his officers, Chief Inspector Moore said: "I would add my voice to the condemnation of the deluded criminal degenerates who were behind the attacks.
He thanked the people of Lisburn for their continued patience and support, and appealed for anyone with any information about terrorist activity, to contact the police.
"I would also appeal for patience from anyone who is delayed or disrupted by any police operation in the coming days and weeks," he said. "We will do everything we can to reduce the impact on the community and everything we do will be proportionate and absolutely necessary.
"I am very proud of the officers in Lisburn who are continuing to do a job they believe in and which they love. I pay tribute to the young men and women who are determined not to be deterred from that job. Just like our colleague in Craigavon, we are not going to step back; we are going to continue to place ourselves in the line of danger to protect innocent people. We are going to hold our nerve.
"The flag at Lisburn police station currently flutters at half mast amidst a sea of daffodils as we remember our colleague in Craigavon. The best way we can honour him is to keep doing the job we believe in."
Chief Inspector Moore appealed to anyone who notices any suspicious activity or has any information they think may contribute to the fight against the terrorist threat, to get in touch with the police, either directly, or using the Crimestoppers number 0800 555 11 1.
julieann.spence@ulsterstar.co.uk
Ulster Star
13/03/2009