Family's grief for soldier killed in Afghanistan
by MARY MAGEE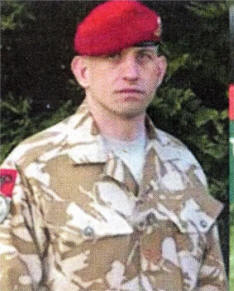 THE WIFE of a Lisburn based soldier killed in Afghanistan last week has paid tribute to a 'gentleman' and 'loving' husband.
Sheena Ross's husband Sergeant Ben Ross of 3rd Regiment, Royal Military Police, was killed by a suicide bomber along with Corporal Kumar Pun of 1st Battalion The Royal Ghurkha Rifles last Thursday during a patrol in Gereshk in Helmand province.
Sheena, herself a serving Royal Military Policewoman, described him as 'a very loving husband.'
"His family are so very proud of him," she said. 'A genuine, quiet, selfless man who was the centre of my world. He will be missed by all who knew him."Sergeant Ross, (34) from Bangor, Wales, grew up in Dubai, United Arab Emirates and joined the Army in September 1996. He transferred to the Royal Military Police in 2003 and then to the Weapons Intelligence Section in Northern Ireland where he had been stationed at Thiepval Barracks.
He served on various tours and within a Close Protection Team in Sudan and in December 2008 was posted to 173 Provost Company, 3 Royal Military Police, in order to deploy on Operation HERRICK 10.
A team leader on Operation HERRICK 10 (Afghanistan), Sergeant Ross relished his work within the Police Mentoring Company. His Commanding Officer Major Adam Quantrell described Sergeant Ross as a professional with a 'warrior attitude.'
"Sergeant Ross's tragic death has come as a huge shock to all of us and the hole that has been left by him appears at the moment to be overwhelming. I know if Ben were still here he would just look at me, tell me to fill the hole and get on with the job," he said. "This was the nature of the man, a professional; a veteran of many tours with a warrior attitude and spirit. Fiercely determined yet compassionate and patient he added colour to all our lives.
"He was a giant among men and I am blessed for having him under command and the company is blessed for having served with him."
He continued: "A wise man once said that a truly great man is somebody that doesn't remind you of anyone else. Ben Ross stood alone in this respect; utterly competent and truly professional. "
Ulster Star
15/05/2009