Army chef cooks up a dessert storm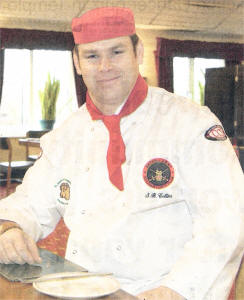 WARRANT Officer Class 1 Shaun Collins of the Royal Logistics Corp, who is based in Lisburn with 19 Light Brigade together with Catterick Garrison chef Corporal Vicki-Leigh Smith cooked up a storm to win a top award at an international food and sherry pairing competition.
The competition was stiff against Michelin starred chef and sommelier teams from across the world at the third Copa Jerez competition in Spain. The talented pair won the title of best dish paired with a medium/sweet sherry.
Jerez is the home of sherry and each team was tasked with choosing three courses, which then had to be matched with the perfect fortified wine.
A Dutch team from Restaurant Lindenhof carried off the overall prize for the best menu, but Shaun and Vicki-Leigh, competing as the British Army Culinary Arts Team, were delighted with the Sweet Sherry prize.
"We were the only Army team, everyone else was from top restaurants around the world, so this was a real achievement," said Shaun. "The other teams usually work together but I'm based in Lisburn and Vicki-Leigh is in Yorkshire so we don't get much time to practice."
Their menu of pan fried scallop with black pudding, wilted spinach, chanterelles, carrot and orange butter sauce and spinach oil. This was paired with Manzanilla, whose dry, fresh and delicate taste was judged to complement the Scallops beautifully. Their second course was a Cannon of venison, dauphinoise potatoes, celeriac puree, broad beans, chestnuts and raisins, game ravioli an a rich game jus. To pair this Shaun chose a 30 year old sweet Oloroso.
To finish was a Chocolate soufflé with glazed raspberries, chilled cream and sloe gin ripple paired with a 30 year old PX.
Ulster Star
27/02/02009