Girlfriend of Lisburn man killed in Iraq to take part in fundraiser
Shauna cycles around Cuba to help families in Africa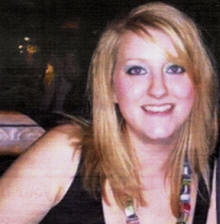 THE girlfriend of a Lisburn man who died in a car accident in Iraq in June is planning a fundraising cycle around Cuba next year to help a charity which works in Africa.
Shauna O'Neill (21) from Hill Street, a keen voluntary worker, will be cycling over 600km around the island in a bid to help build a house for an African family in an event organised by Cork based Africa Direct.
Her boyfriend Aaron McShane was working in Iraq as a private bodyguard and was due to return home when the car in which he was a front seat passenger went out of control after a tyre blew out. Aaron died and the other two passengers in the vehicle were injured.
Shauna has worked for the British Heart Foundation and the YMCA as a volunteer, but her dream was to volunteer abroad.
The fitness enthusiast, who was a forensic science student at John Moores University in Liverpool, saw an advertisement in a newspaper looking for people to join the trek and felt she would like to try and help.
"This is something that I have always wanted to do, to help people," said Shauna. "I had wanted to go to work as a volunteer and when I left school after my A levels wanted to take a year out. Instead went to University so I saw the advertisement in the paper I thought it was something that I would like to try."
The three week cycle begins on January 28, 2010.
"I have been told that you don't necessarily have to be superfit, just fit enough to cycle a few hours at a time," she said. "It's a very worthwhile cause and I have been told it is a once in a lifetime experience. I already go to the gym so for the next six months I'll just have to get the bike out and cycle."
To help raise 5200 Euro for the trip Shauna is planning a car boot sale and hopes to take part in bag packing events at local supermarkets.
Africa Direct is working to improve the lives and future prospects of the poor in developing countries. For more information about the charity log onto www.africadirect.ie
Ulster Star
04/09/2009