Lisburn mayor helps pack Tesco shopping bags
for Diabetes UK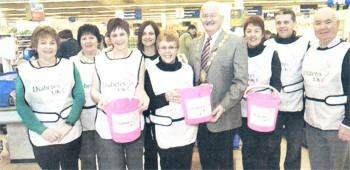 LISBURN City Mayor and his team of volunteers recently took to the checkouts at Tesco's to raise some much needed cash for his nominated charity, Diabetes UK.
This is just one of the many fundraising events the Mayor, Councillor Ronnie Crawford and his helpers will be engaging in.
There will be a special collection at Marks and Spencer's, Sprucefield this Saturday (February 14), at the Hugo Duncan concert on February 26, St Patrick's Night celebrations on March 17 and bag packing at Sainsbury's, Sprucefield Park on March 28.
Mr Crawford commenting at the recent bag packing event said, "I am overwhelmed by the heartfelt generosity that I have seen during the collections at Christmas and recently at Tesco's. To date we have collected over £12,000 for the charity, and I hope that we will be able to raise more at the upcoming events.
"So many people's lives are affected by Diabetes, and I would like to take this opportunity to thank everyone for their generosity," he said. If you would like to get involved in any of the fundraising activities, please contact the Mayor's office on 028 9250 9331 or email mayors.secretary@lisburn.gov.uk.
Ulster Star
13/02/2009