Success for Lisburn student at Skillbuild 2009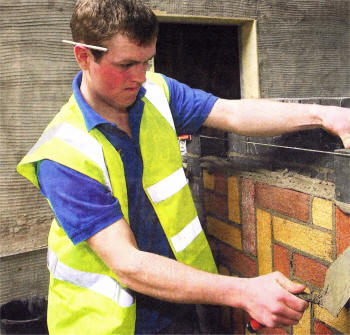 THERE were celebrations for local student Philip Green recently when he scooped a Silver medal at the annual Skillbuild NI Competition held at Southern Regional College, Portadown Campus last week. Apprentice Philip, a student at Belfast Metropolitan College, who works for Lance Owens Brickwork Contractor, received the top award in Brickwork at the event.
Providing a unique stage to showcase excellence and talent, Skillbuild NI is hosted annually each spring and 100 of the top apprentices competed to win coveted titles in 12 different construction craft areas ranging from plumbing to brickwork. The winners may then go on to represent Northern Ireland in National and World Skillbuild finals.
Skillbuild NI competition test pieces are designed to challenge the ability of apprentices to follow detailed instructions, produce accurate and neat work outputs, be economical with materials while working to strict timescales - all essential requirements for today's construction industry.
David Cooper, Chairman of Skillbuild NI said; "The young people that compete in Skillbuild are a credit to the industry and help promote a positive image of construction to other young people."
Commending the apprentices on their hard work and dedication shown in their field of expertise, Employment and Learning Minister, Sir Reg Empey, said:
"The Skillbuild Northern Ireland competition allows our young apprentices to demonstrate their skills on the local stage. As we now look forward to the National finals and ultimately Worldskills in 2011, I hope that today's successes will herald the start of a journey of personal achievement and public acclaim.
"To this end I would encourage everyone to go on and fly the flag for Northern Ireland construction crafts and test their skills against the best in the UK and hopefully the world." •
To register for WorldSkills UK 2009 competitions by the closing date 9 April , visit www.worldskillsuk.org/competitions to find out what competitions are available.
Ulster Star
20/03/2009