Police recover 'skimming' camera from cash machine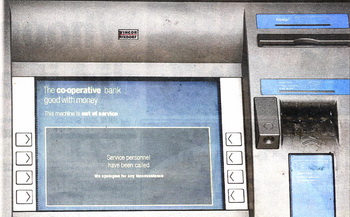 POLICE have advised anyone who has used the cash machine at the Co-op on Lisburn's Belsize Road in the last week to contact their bank after discovering a card skimming operation.
Last Friday officers recovered a camera which had been inserted into the machine to capture customers' PIN numbers. They acted after residents reported seeing two men acting suspiciously in the area on two consecutive nights - Wednesday August 12 and Thursday August 13.
Lisburn police community safety officer, Constable Geoff Baird, advised anyone concerned about the security of their details to contact their bank immediately. He also urged anyone with any information about the incident, or who saw anyone acting suspiciously in the Belsize Road area last week to contact the police in Lisburn.
Mr Baird advised: "People should examine machines before using them. Check around the card slot and keyboard areas and if you are unsure of anything, use another machine.
"Thieves use attachments to 'skim' your details and make a clone of your original card, therefore you may not be aware that anything untoward has happened.
"Sometimes they use a miniature camera attached to the machine to record the PIN you enter. If you spot anything unusual, do not touch it, but contact bank or shop staff, or the police, immediately.
"Also keep an eye out for anyone hanging about in cars near machines. The fraudsters often lurk nearby to watch what is going on. "Sometimes fraudsters will pose as customers to try to see the PIN that others are entering.
"The security of your PIN is vital and should be safeguarded. Never reveal it to anyone and it is good habit to cover the keypad with your free hand while inputting your PIN."
Anyone with any information can contact police in Lisburn on 0845 600 8000. Alternatively members of the public can pass information anonymously using Crimestoppers on 0800 555 111.
julleann.spence@ulsterstar.co.uk
Ulster Star
21/08/2009