Lisburn conference highlights burning issue of skin cancer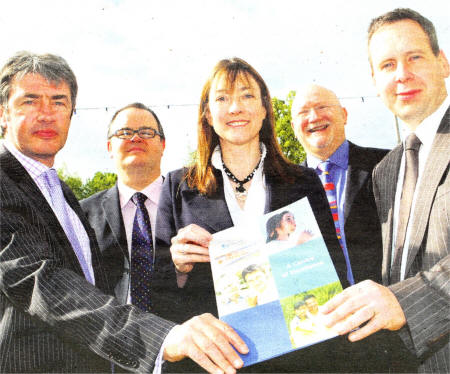 Dr Paddy Woods, Acting Deputy Chief Medical Officer at the Department of Health, Social Services and Public Safety, Tom Crossan, Vice Chair of NIMSIG, Sandra Gordon, Northern Ireland Melanoma Strategy Co-ordinator, Ulster Cancer Foundation, Professor Ray Waters, Chair of the Committee on Medical Aspects of Radiation in the Environment Sunbed Sub-group and Dr Art O'Hagan, Consultant Dermatologist, Craigavon Area Hospital.
A GROUND breaking skin cancer conference in Lisburn has heard cases of malignant melanoma, the most serious form of condition, have almost trebled since the 1980s and are set to treble again in the next 25 years.
The conference heard the incidence of skin cancer is continuing to rise among both men and women and it is estimated that the likely cost to the NHS in the UK is around £100m per annum.
The conference, entitled 'Skin Cancer - A Burning Issue', was organised by the Northern Ireland Melanoma Strategy Implementation Group (NIMSIG) to help develop strategies and programmes to tackle the adverse health effects of over-exposure to sunlight and sunbeds.
Tom Crossan, Vice Chair of NIMSIG said: "Whilst we have seen rates of skin cancer treble since the 1980s, we expect that by 2035 they will have trebled again. This conference is therefore of vital importance to help shape our understanding and steer future programmes on skin cancer and sunbeds.
Mr Crossan said they were delighted to have speakers from Europe, Ireland and the UK including Prof Ray Waters, Chair of the Committee on Medical Aspects of
Radiation in the Environment (COMARE) sun-bed sub-group. Ile presented a resume of the COMARE report on sunbed legislation in the UK which showed that, with the exception of Scotland, the UK is currently lagging behind a number of Western countries in not having legislation regarding sunbed facilities.
Opening the conference, Dr Paddy Woods, Acting Deputy Chief Medical Officer at the Department of Health said: "Northern Ireland has witnessed a trebling in the incidence of melanoma skin cancer over the past twenty-five years - from 80 cases in 1984 to 259 in 2007. Non-melanoma skin cancers, although less dangerous, are the most common type of cancer diagnosed in Northern Ireland with approximately 2,500 new cases each year. The majority are associated with over-exposure to ultra violet light, this is especially significant at a young age.
There are simple measures we all can take to minimise such harm; covering up, applying high factor sun screen and avoiding the mid day sun. These measures are essential, not just when travelling to the world's sunspots, but also in the relatively mild weather conditions locally. The current popularity of sunbeds, particularly among the young, poses longer term health risks which far outweigh the short-term cosmetic benefits of a tan.
"The key message is that over exposing your skin to harmful rays, whatever their source, is dangerous."
Sandra Gordon, Northern Ireland Melanoma Strategy Co-ordinator at the Ulster Cancer Foundation added, "Approximately 80% of skin cancers are preventable by following the basic sun protection messages and avoidance of sunbed use. "
To minimise risk and stay safe in the sun, UCF advise the following:
Cover Up - Wear a hat; broad brims give the best protection. A 'legionnaire' flap on your baseball hat provides excellent protection. Wear loose fitting clothing to protect your shoulders, arms and legs when you are working in the sun.
Seek Shade - Especially during the hottest part of the day between 1 I am and 3pm. Limit the time you are exposed to the sun.
n Use Sunscreen - In Northern Ireland a broad-spectrum sunscreen which protect against both UVA and UVB and with an SPF of at least 15 is recommended. Apply before going out in the sun and reapply frequently.
It is important to check skin regularly for suspected skin cancers. Check the whole body as skin cancer can occur in places not normally exposed to the sun. Be aware of any new spots, or existing spots that have changed colour, size or shape. A skin cancer may be a spot that bleeds easily, never heals properly or is always itchy.
If an unusual spot is identified, show this to a doctor. Most skin cancers can be treated successfully if treated early. If you are concerned about skin cancer you can phone the UCF Information & Support Helpline - 0800 783 3339 or email one of the nurses on
Wake-up call for Jonathan
JONATHAN Guy, a vet from Ballynahinch, was diagnosed with malignant melanoma in his early 30's.
"Although I was never an avid sun-worshipper, I always enjoyed the outdoor life, especially watersports such as sailing and water-skiing. When I discovered a mole on my thigh that looked more raised than normal, I talked to my wife, who is a doctor" he said.
"On her advice I went to see a specialist at Lagan Valley Hospital who realised almost immediately that all was not well. I had the mole removed and then a wider excision. I was shocked to be diagnosed with malignant melanoma - the most serious form of skin cancer. "I didn't actively sunbathe so I didn't always use sunscreen but I do have the typical Celtic fair skin and I spent my very early childhood in Nigeria. I realise that these factors may have contributed to my risk of developing skin cancer. In my case it was caught early but it was a real wake-up call for me. I still enjoy being outdoors but I'm extra careful now - I never get burnt and I always wear sunscreen!"
Ulster Star
29/05/2009