Afghan bound soldiers feel the chill...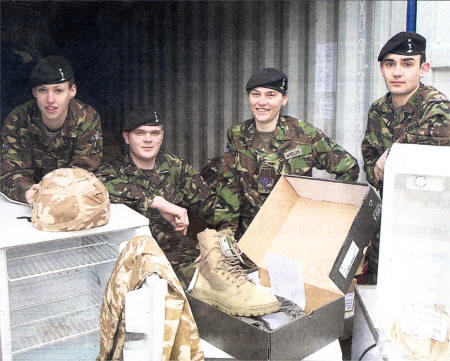 L-R Signaller Jennifer Knowles, Lance Corporal Matthew Kimber, Sgt Nat Whelan, and Signaller David Guest. US0909-
AS Lisburn-based troops from 19 Light Brigade (Lt Bde) prepare to deploy for their six-month tour of Afghanistan, the staff at Headquarters (HQ) 38 Irish Brigade are doing its bit to down energy consumption by removing old fridges. The recycled fridges will supplement existing stocks and will come in very useful as temperatures can climb to a sweltering 50C at the height of the Afghan summer.
Helping load one of the shipping containers Sergeant (Sgt) Natalie Whelan said: "I think it's great that we're able to recycle these appliances. When the guys are out in theatre it's the little luxuries that can make it a bit more tolerable, and I know these will be appreciated."
Ulster Star
27/02/02009