Another superb catch for charity angling event
| | |
| --- | --- |
| | |
| The children who took part in the bait fishing competition. Back left - Tenaya Beggs. Front Left -Ethan Beggs, Koi Beggs, Jack Pearl, John Doherty and Ciaran Dodds. | The winners of the adult section - Jim Harrup (1st Prize), Phillip Hull (3rd Prize) and Artie Couchman Snr. (2nd Prize) |
THE eighth annual charity fishing competition in aid of Mental Health Services has netted approximately £2200.
The venue was Springwater Meadow Fishery on the Cockhill Road, just outside Lisburn. The event was organised by Derriaghy Centre volunteer Jim Beggs and members of the Mental Health Day facility based at The Cutts, Dunmurry and managed by the SE Health and Social Care Trust.
A total of 30 anglers participated with 24 taking part in the fly fishing section and six children enjoying themselves in the bait competition.
The winners in order of merit were; 1st - Jim Harrup with two fish to 121b 8ozs; 2nd - Artie Couchman Snr. with two fish to 111b 8ozs; 3rd -Phillip Hull with two fish to 91b 12ozs
Artie Couchman Snr caught the heaviest fish of the day, a beautiful specimen between 7 and 81b.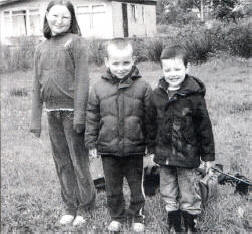 The Children's competition winners in order of merit were; 1st - Tenaya Beggs (aged 10) with two fish to 51b 8ozs; 2nd - John Doherty (aged 11) with two fish to 4lbs; 3rd - Ciaran Dodds (aged 11) with two fish to 31b 14ozs
The day was enjoyed by all despite the changeable weather conditions of heavy showers and sunshine. Everyone taking part received a prize as a reward for collecting sponsorship. The funds raised will be used to provide therapeutic activities for the members and for other requirements within the Derriaghy Centre.
Top fundraisers in the senior section were J.Beggs with £1000+ and William Chambers with a remarkable £245. Young Ethan Beggs did particularly well fund raising a magnificent £145 in the children's section for the day centre.
Thanks goes to all those who spent their time collecting sponsorship and to those who donated prizes such as Laganview Tackle Shop, Dunmurry, Jack Smyth Superstore, Lisburn and Coburns of Banbridge.
The group would also like to thank the Ballylough Fishery at Annsborough and all the pubs, clubs and businesses in both Lisburn and Dunmurry who donated sponsorship.
Their particular thanks goes to the fishery manager Francis Hurst at Springwater for all his support, for giving his time, for his personal donations of prizes and money and for permitting the children to bait fish for charity on his fly only fishery. Thanks also to Carol and Zelda at the fishery who gave their personal time to support the event.
Jim Beggs, the event organiser, said: "It is encouraging to see so many individuals and businesses support this event.
"Public support is what is required if we are to combat the ignorance that is traditionally attached to the image of mental health" Jim said.
Ulster Star
26/06/2009