St Aloysius PS learn the appliance of Science at W5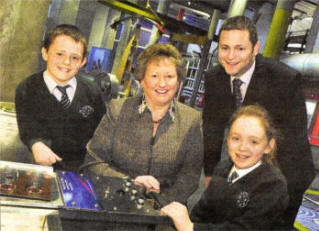 ST ALOYSIUS Primary School visited W5 this week as part of Northern Bank Science Counts, an education partnership with the interactive discovery centre.
Pupils were treated to a fun maths problem-solving workshop by the educational team from W5 as well as getting the opportunity to enjoy over 180 hands-on exhibits.
Sally Montgomery, Chief Executive of W5 explained: "Through this programme we can show the fun and excitement of science and maths - and how relevant these subjects are to their real lives and the world around them."
Katherine Morrow , Northern Bank Branch Manager Lisburn, said: "Encouraging children to be confident with maths and its everyday use has been the main theme of Northern Bank's community investment programme for over eight years. Over 6,000 children have taken part in Science Counts over the past two years and we are delighted to partner W5 to make this experience possible for many more children again this year."
Ulster Star
06/03/2009