Wallace awarded £12,000 to fund STEM project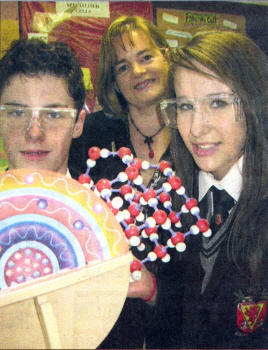 WALLACE High School has been awarded £12,000 by the South Eastern Education and Library Board for a project that promotes Science, Technology, Engineering and Mathematics (STEM).
It will mean a group of 20 Lower Sixth students heading off to Disneyland Paris for four days to investigate the technology of rollercoaster's whilst all Year 8 students are looking forward to taking part in technological trials and flight design workshops during a full day visit to W5.
The school has designed an innovative programme which will run over the next three months and involves not only pupils from Wallace but from the Lisburn learning community.
Lois Stewart, coordinator of the project in the school commented, "We are delighted to receive this additional funding which will undoubtedly help enthuse young people in the world of science, technology, mathematics and engineering.
"There is a clear need in Northern Ireland for additional expertise in these career areas and the innovative programme of events will hopefully engage our students and others from the Lisburn learning community."
Former Wallace students who are currently reading STEM related subjects at universities across the UK revisited the school last week for question and answer sessions regarding university life.
Work experience at the prestigious Rutherford Appleton laboratory in Oxford has been organised for two top physicists, Wallace's Jonathan Crean and Chin Mun Soong from Friends School.
Sixty local primary school children will also spend a day in Wallace, taking part in an interactive Maths workshop organised by Sentinus, with Wallace students having the opportunity to act as mentors.
Ulster Star
30/01/2009