Stephen meets his football hero
A YOUNG Lisburn man suffering from cancer has got to meet his football hero.
by JENNY MONROE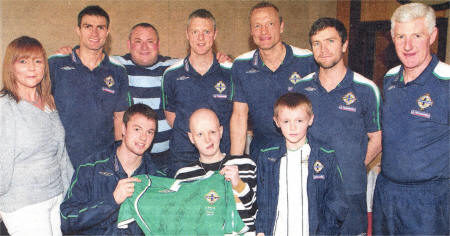 Stephen receives a signed Northern Ireland shirt from hero Jonny Evans. Also pictured is Stephen's mum Ann, Stepfather Mark and brother Deen with members of the Northern Ireland squad, including Aaron Hughes, Stephen Craigan, Maik Taylor, Damien Johnson and Manager Nigel Worthington.
Stephen Mould, 24, who had a brain tumour removed but now has cancer of the spine, was invited with his family to meet the Northern Ireland Football team.
On Wednesday Stephen from Mercer Street, his stepfather Mark, mother Ann and brother Deen enjoyed lunch with the players at the Hilton Hotel.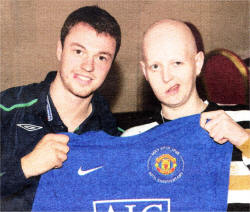 The invite came about after work colleagues of Stephen's stepfather contacted the Irish Football Association telling them about Stephen's condition and his love of football.
Mark explained: "I work for the Highway Maintenance Management, part of Grahams in Dromore, and it was my work mates who took it upon themselves to email the IFA and explained Stephen's condition. I don't know all the details but it came together and we received the invite."
Mark's colleagues organised a chauffeur driven Bentley to collect him and his family who were taken to the Hilton Hotel and met by team Manager Nigel Worthington. Mr Worthington arranged for Stephen to sit at lunch beside his favourite footballer Jonny Evans who also plays for Manchester United.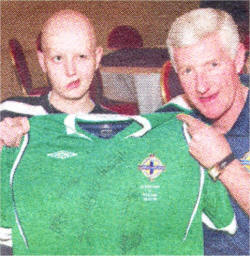 Mark said; "It's a bitter sweet occasion to be honest. I just can't believe my colleagues did this for us. I'm astonished."
After the meal Stephen was presented with a signed Northern Ireland top and football and was told that he and his family would be given tickets for Saturday's match against Poland.
The family were then introduced to the rest of the squad. Mark commented: "We were all overwhelmed. My other son was so pleased to get his top signed by David Healy. All the footballers were so down to earth." He continued: "It has given Stephen such a boost. He chatted all the way through the lunch with his hero Jonny Evans.
"It's hard to put into words what this has done for Stephen. He got home and phoned his family and friends to tell them all about his day.
"I really can't thank my workmates and the Northern Ireland Football team enough for making a dream come true for Stephen."
Ulster Star
27/03/2009