A 'Welcome' first for Stepping Stones trainees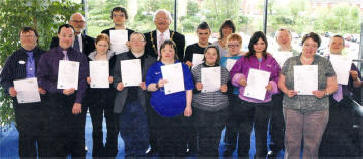 THIRTEEN Stepping Stones Trainees who received the prestigious 'Welcome Host' Award have been congratulated at a reception in the Civic centre hosted by the Mayor, Cllr Ronnie Crawford.
This award, which is held in high esteem by employers in the hospitality and tourism industries as well as many other sectors in which customer service skills are central, was sponsored by the Lisburn Business Education Partnership.
The Stepping Stones trainees received the award by completing and passing the 'Welcome Host' training which is part of the Northern Ireland Tourist Board's 'Welcome to Excellence' suite of customer care programmes.
NITB first introduced the Welcome to Excellence programmes to the leisure, travel and tourism sector in 1995.
Since then, over 20,000 people have participated in the programmes which are now being re-launched as part of NITB's plan to focus on the customer experience. This programme was especially adapted to meet the needs of the individual trainees at Stepping Stones. It is the first time in Northern Ireland that such a training establishment has been able to have trainees complete the course successfully.
Louise McKinstry from NITB congratulated the trainees on their success. "Gaining the 'Welcome Host' award is testament to the hard work and commitment of the trainees" she said. "They now have the skills which are crucial for working in an ever evolving industry such as tourism. I am delighted that NITB could make the programmes a possibility for them."
Ulster Star
/2009