Story from Lisburn's past gets new life in book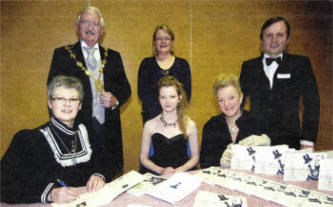 A NEW children's storybook based on the story of one of Lisburn's most notable historical figures has been launched at a special event Our Past, Shared Future' in Wallace High School.
The storybook 'Sir Richard Wallace: the Lisburn Connection... the story of Fountains, Fame and Fortune has been published by the Richard Wallace Trust, (Lisburn) and is the first ever children's book based on the story of one of the most significant cultural and historical figures in Lisburn's past.
The book has been commissioned as part of a year-long series of activities organised by the Trust and funded by Awards for All to raise awareness of Sir Richard and his contribution not only to Lisburn, but to the British nation as the collector of a significant art collection now open to the public as The Wallace Collection in London.
The Trust commissioned local writer, ex-Wallace High School teacher Helen Long, and illustrator Kathryn Boyle to collaborate with P7 pupils from Wallace Prep to produce the narrative and a series of beautiful illustrations, telling the remarkable story of Sir Richard.
The result is a 36 page illustrated storybook telling the story of Sir Richard Wallace's life from his childhood in Paris, to his legacy following his death and highlights his many generous contributions throughout his life to the citizens of Lisburn, such as his gift of Wallace Park, land and money for Wallace High School, buildings such as Lisburn Court House and Castle House and of course the famous Wallace Fountains which can now be found all over the world.
Anthea McWilliams, Chair of the Richard Wallace Trust, said they were 'thrilled' to be launching the book
"The book has been planned for quite some time, so it is wonderful to see it finally published and it is long overdue in many respects, as there are many people living in of connected to Lisburn city who know nothing about the contribution Sir Richard Wallace made to the area. I hope that this book is just the start in bringing back to life a little of the history that so many of us have forgotten."
A limited first edition of just 100C copies of the book have beer printed and copies can be purchased in person from the reception at Island Arts Centre Lisburn for £5, or on request from Anthea McWilliams on 9266 317t or email rwallacetrust@aol.com.
Ulster Star
10/04/2009