A stroll down memory lane at Fort Hill
| | |
| --- | --- |
| | |
| Susan Boreham, PE teacher at Fort Hill College, with former pupils Tina Warren and Karen Brand (nee Armstrong), looking through some old sporting pictures during an evening to mark the college's 50th anniversary. US0509-503cd | Former pupil Olive Tinsley (nee Henderson), one of the school's original intake in 1958, Mrs Margaret McCormick, vice principal, and Liz Brandon (nee Thompson), now living in England and also part of the first intake, looking through old school reports from 1958. US0509-502cd |
AS part of its ongoing 50th anniversary celebrations Fort Hill College held an open house giving past staff and pupils an opportunity to take a trip down memory lane.
A wealth of memorabilia collected over the last fifty years was displayed at the event last week.
In the Gym scrap books full of lots of interesting photographs and articles put together by the past and present Principals Miss Gray, Miss Tigchelaar and Mrs Getty proved to be a major attraction, together with displays to mark the trip to London in 1990 to collect the Schools Curriculum Award and to Belfast harbour to tour the Royal Yacht Britannia on her farewell voyage around the UK ports.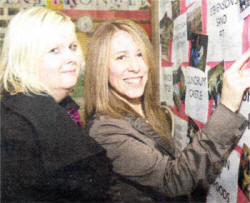 There were lots of interesting displays in the class rooms by the different subject departments for the visitors who came in their droves despite the bad weather Many even brought their own old photos, reports and classwork books — some from as far back as 1958. Vice Principal Margaret McCormick said: It was surprising to hear that some past pupils had ever returned from England to see old friends and had timed their visit to coincide specifically with the event.
"Once inside they were not disappointed - they were able to sign a visitors' book, buy souvenir pens and copy of the popular anniversary magazine or take home copies of their old school report. There was a real buzz in the air as past pupils and staff were reunited swopped new contact details, took photos and toured the school, before sitting down over a cup of coffee to share their memories. There were shrieks of laughter embarrassment and amazement as pupils looked through the changing fashions and hairstyles, unable to believe that so much had been kept over the years".
Mr Trevor Dickson, who has been Vice Principal for just over four years, commented: "It is very clear that Fort Hill holds lots of happy memories for the many pupils who have passed through its doors. There was huge amount of work done to put this together but to stand back and see the reaction of those who came shows that it has all been worthwhile and has certainly been a day to remember."
Gillian Sloane (nee Wilson), Arlene Greenaway (nee Johnston), Audrey Roberts and Lorraine Bradley (nee Wethers) with former geography teacher Mrs Margaret Kyle (nee Russell). US0509-505cd Margaret Kyle (nee Russell). US0509-505cd
Helen Bonar, head of science; Mary Richards, former maths teacher; Mrs Gillian McCormick, former science teacher; and Mrs Kathleen MacDonald, former head of science.
US0509-506cd
Sisters and former pupils Yvonne Goudy and Linda Tucker (both nee Darragh), looking to see if they can find themselves on an old panoramic picture. US0509-507cd
Former Fort Hill College pupils Wilma Bickerstaff, Isobel Gallagher (nee Porter), Mary Sloan (nee Bailey), Leanne Bailey and Madaline Bailey (nee Warring), looking through an old 'memories book' during an evening to mark the college's 50th anniversary. US0509-508cd
Ulster Star
06/02/2009