New campaign to help young people stub out smoking
Age progression software gives a shocking insight
by JENNY MONROE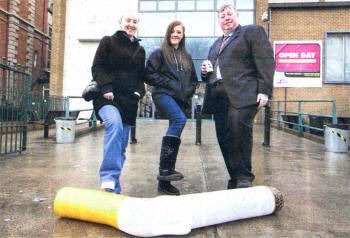 LISBURN City Council has launched its 'Take the First Step' campaign aimed at helping young people give up smoking. In the run up to this year's National No Smoking day on March 11 the Council's Environmental Health Unit held a Stop Smoking Information and Advice Clinic at South Eastern Regional College's Lisburn Campus, where expert advice and information was provided to students by Environmental Health and Tobacco Control officers, the Ulster Cancer Foundation and the South Eastern Health Trust.
A local smoking cessation nurse was also on hand to give advice to students.
One of the event highlights was April', the age .progression software which enabled students to see what they would look like at 72 if they continued to smoke. This was a shocking insight into how smoking can not only damage a person's health but also affect their appearance. Alderman Paul Porter, Chairman of Lisburn City Council's Environmental Services Committee said: "In Northern Ireland there are
2,400 premature deaths every year due to smoking. One in four people in Northern Ireland smoke regularly. However, this varies greatly depending on age and sex for example in the 16-19 age group in the period 20062007, 31% females and 13% males were smoking."
"Smoking is the UK's number one cause of premature death, linked to a range of serious and often fatal conditions. It is a major health concern and needs to be addressed amongst our young people, through the provision of information and continued support. This event has proven to be very successful with many students availing of the information and advice provided to help them to take the first step to stop smoking. I would urge the young people to take the advice seriously," he said.
For further information or advice contact Lisburn Council Environmental Health Services on 9250 9394, email ehealth@lisburn.gov.uk or visit www.lisburncity.gov.uk.
Ulster Star
06/03/2009