MP and mayor pledge to support the troops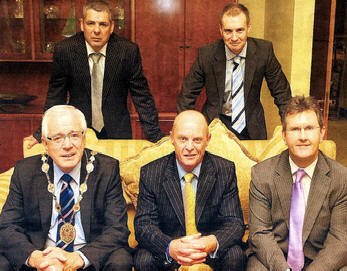 Major Sam Pinkney, Wo2 Gary Griffiths and Wo2 Colin Morrison of the 40th Regiment Royal Artillery (The Lowland Gunners) with Mayor of Lisburn, Alan Ewart and MP Jeffrey Donaldson who met to plan a Gala Night for soldiers returning from Afghanistan.
US3509-101A0
SOLDIERS from 40th Regiment Royal Artillery (Lowland Gunners), who are stationed at Thiepval Barracks are busy planning a gala event for the rest of their regiment who are returning to their Lisburn base in October. In a bid to boost support for the event, they met with Lagan Valley MP Jeffrey Donaldson and Lisburn Mayor Allan Ewart last week.
Mr Donaldson and Mr Ewart were delighted to hear the plans the Regiment's Rear Operations Team had for the troops, which includes a family fun day, a medal parade in the Barracks and a lavish gala dinner.
The Rear Operations Team is hoping to secure sponsorship for the event from local businesses and both the Mayor and MP pledged to help in any way they could.
Mr Donaldson and Mr Ewart also indicated a desire to host a civic function to pay tribute to those serving overseas and to acknowledge the role played by Thiepval Barracks in the life of the city.
Speaking after the meeting, Mr Donaldson said: "We believe it is entirely appropriate for the city of Lisburn to recognise the contribution that soldiers based in our city are making on behalf of their country, which has come at a very high price in terms of the sacrifice they have sustained in recent times in Afghanistan. "Together with the Mayor, we will be looking at ways in which the city can recognise that contribution and also to ensure the soldiers and their families who are based in our local community are an integral part of that community.
"This means we need to ensure that any events organised make the soldiers and families feel a part of Lisburn City and that they are aware of just how much we appreciate their presence in the city."
Warrant Officer Gary Griffiths, who is organising the event said: "We thank Mr Donaldson and the Mayor for their time, advice and support.
"Our aim is to provide the soldiers and their families with an event they will never forget. It will be a great opportunity for them to reflect on the operational tour and everything that has been achieved by 'The Lowland Gunners'.
"Finally and sadly, it will allow us to remember the fallen and the immense courage they demonstrated in attempting to make Afghanistan a better place to live in."
If you would like to offer support or sponsorship to 40th Regiment Royal Artillery (The Lowland Gunners) please email Sergeant Muir Philip at ra40@hotmail.com.
Julleann.spence@ulsterstar.co.uk
Ulster Star
28/08/2009