SUSANNAH'S FIRST DAY AS FIRST CITIZEN
PROVES RATHER TIRING
One day you're at school, the next you're running the whole city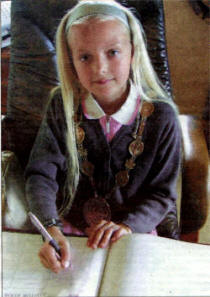 CALLS for fresh new faces at the top in politics were answered recently when a pupil at Harmony Hill Primary School took on the role of Mayor of Lisburn for the day.
Susannah Boyce won the coveted title in a competition open to all primary six and primary seven pupils across the City, but was left so exhausted she fell asleep in the Mayoral car at the end of her stint.
Pupils were asked to write a short story about what they would do if they were the Mayor for just one day. Each school selected their best story and submitted it to the Mayor for judging.
Nineteen entries were received and the then Mayor Ronnie Crawford had a difficult task in choosing a winner from the extremely high standard of entries.
The winner was Susannah, from Mrs Bell's primary six class at Harmony Hill, who spent the day with The Mayor on Friday June 5 and accompanied him on his engagements which included unveiling a piece of sculpture at Woodbrook, Brokerstown Village, attending the official launch of Ulster in Bloom and a tour of Stormont. Speaking afterwards Susannah said: "I enjoyed writing my entry and was amazed when I was chosen as the overall winner.
"The prize day was fantastic. I loved being driven round with the Mayor and his wife in his car. I found the launch of Ulster in Bloom really interesting. I was so tired at the end of my busy day that I fell asleep in the car on the way back to my house. Thank you to everyone who made this day possible for me."
Mr Crawford commented: "Susannah thoroughly enjoyed her day as the Mayor of Lisburn City Council. She particularly liked wearing the Chain of Office and felt quite at home sitting at my desk. I would like to thank Susannah for her essay, which was one of compassion and thoughtfulness for other people.
"I would also like to thank all the other children for their time and effort taken to create such good entries," said Mr Crawford.
Ulster Star
03/07/2009