Sylvia came to Glenavy and fell in love with the village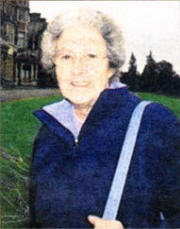 A FOUNDER member of the Glenavy Community Association, Sylvia Price, who died recently will be best remembered for her energy, enthusiasm and zest for life in the community of Glenavy she adopted as her own.
Originally from England, Sylvia was born on November 18, 1934, in the Nags Head Public House, Peterchurch, Herefordshire to Edgar and Dorothy Jones.
The eldest of three girls she attended a private school in Hay on Wye where she was taught how to become a lady - learned how to balance books on her head, spell and discovered her love of reading, something that was to remain with her for the rest of her life.
During the Second World War the sisters often huddled together under the kitchen table when the German bombers flew over to places like the local munitions factory where their father worked.
After the war Sylvia worked in the costings office in Greenlands department store in Hereford.
When she went out in the evenings, as stockings were too expensive she, like many, had to resort to covering her legs with gravy.
Even at the tender age of 20 Sylvia knew exactly what she wanted to do. Asked by the wife of Brigadier Lyons what she wanted to do with her life, Sylvia replied ... 'Look after children.' She was offered a job as a nanny looking after Mrs Lyons' relatives in a little village called Glenavy in Northern Ireland.
So it came that Sylvia moved to Pigeontown Lane, Glenavy on July 12, 1956 where she looked after Colin and Diana Wilson by day and, normal for an English girl born in a public house, she frequented the local public house in the evenings alone, a scandal in 50's Ireland.
It was while living in Glenavy she met her future husband David Price from Station House on a blind date. They married in September 1958 and In 1961 the couple moved to Bristol where David ran a department store and Sylvia worked for Fry's chocolate factory.
Their first child Alistair was born in 1966 and the family returned back to Glenavy in 1969 to look after David's ailing mother who suffered a stroke. Sylvia nursed her mother in law at Station House for the next 13 years.
In 1971 daughter Caroline was born and the family became more involved in the local community, starting a group that campaigned for a pedestrian bridge to be built across the A26 after a local boy was killed on the road.
Sylvia, along with other founder member Henry Phillips, continued the group to bring the two communities together and even at the height of the troubles Sylvia brought an energy and a spirit that helped to bring Glenavy together. The Glenavy Community Association began in 1977 with Sylvia as Secretary and Chairperson, titles she held for the next 30 years.
She was also a member of the local WI, the Lisburn Community Forum that ran the Lisburn Festival, The Community Police Liaison Committee, The Ulster New Zealand Trust and The Glenavy Youth Project, using her energy and her time to help local people work together even during the most difficult times of the 70s and 80s.
At one point husband David was chair of a group in Crumlin and between them they were involved in eight separate organisations. She continued her work with a dogged determination and stubborn refusal to quit. Even when she was gravely ill she continued her community work and read an average of one new book per day whilst in hospital.
Sylvia had a full and active life, loved literature, history and loved to walk. Until she became ill Sylvia would walk daily into Glenavy stopping to talk with people she knew along the way. She until her 60's would enjoy intrepid walking, hiking the top of mountains in her home county of Hereford every year.
Despite her hectic voluntary work she returned to looking after children in Glenavy, in 1984. Sylvia became a grandmother in 2004 when her grandson Sam was born. While her heart was split in two locations her commitment never was.
Ulster Star
20/02/2009