TNT in the running to deliver hope to Tanzanian children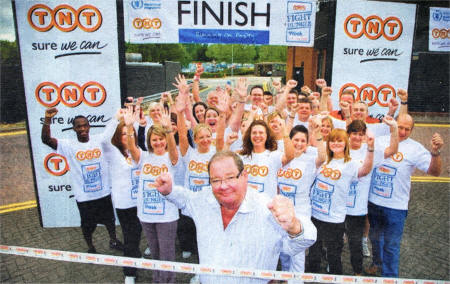 TNT UK Regional Managing Director Tom Bell, centre, joins the Belfast TNT runners on the finish line on their 'Running on Empty' marathon relay challenge
BIG-hearted and fast-footed employees at Crumlin's express delivery giant TNT have delivered a whopping £25,000 boost to feed and educate 1,000 malnourished children in Tanzania for a year. TNT based at Nutts Corner held a fun-packed week of activities in June to raise money for the United Nations' World Food Programme (WFP).
Entitled 'Fight Hunger Week,' the initiative saw thousands of TNT employees in the UK unite with employees in Belfast to raise the cash for the WFP.
The money raised by TNT will be channelled into the WFP's School Feeding Programme whereby children in developing countries are encouraged to attend school and receive a free nourishing meal. All the donations from TNT will go to provide much-needed nutrition and education for youngsters in Tanzania.
Jackie Macdonald, Belfast depot General Manager said: "It costs just 7p per day to feed and educate a child in Tanzania or £25 a year. The initiative is part of an ongoing partnership that has already seen TNT in the UK generate more than £300,000 since 2004 to support the excellent work undertaken by the WFP."
Highlight of the week was the 'Running on Empty' marathon relay challenge — more than 30 employees took it in turns to run the equivalent distance of a marathon, raising £2,000 towards the £25,000 grand total.
Jackie added: "It was a fantastic effort from the team. Everyone was really enthused by Fight Hunger Week and it was great to see staff conjuring up some cracking fundraising events to raise money. The 'Running on Empty' challenge really captivated the imagination of the staff.
"Our 2009 donation goes some way to providing real hope and a brighter future for hungry children in Tanzania.
"We do take our corporate responsibilities very seriously and this is an ideal way to help those most in need."
Ulster Star
31/07/2009