Brothers with a taste for adventure plan latest trip
The Mull of Kintyre and then onto Europe for Fred and Terry
by MARY MAGEE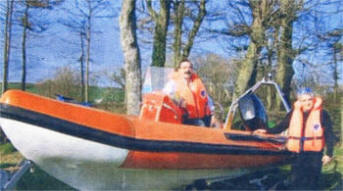 TWO brothers from Lisburn with an appetite for adventure are about to embark on their latest trip.
Fred Gorman, who now lives in England, and brother Terry, originally from Greenwood Estate, went on a two day boat trip around Northern Ireland in September and are now planning to do the same at the Mull of Kyntyre in May.
They plan to take in the Corryvreckan Whirlpool and the Grey Dogs Tidal surge and all to raise money for the Lisburn branch of Leukaemia Research at the same time.
They will leave Groomsport, and travel north to Rathlin Island then east across to the Mull of Kintyre, and then to Fort William.
And not content with that they then plan later in the year to go by land on motorbikes to Europe taking in the Allied War Cemeteries in Brittany the Mullau Viaduct and Mount Blanc Tunnel.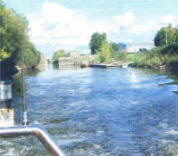 Speaking of his latest adventure Fred said: " "We thought that since we were planning to do it anyway we might as well try to help a good cause.
"We both have time on our hands, my brother is semi retired and I am unemployed and we always wanted to do something like this."
In September Fred and Terry undertook their first adventure, travelling from Groomsport to Lough Neagh in their Osprey 5.2 metre rib, in a half inflatable life boat.
It ended a day later on September 27 at Sandy Bay in Lough Neagh when they picked up relatives and brought them to nearby Rams Island for tea and sandwiches.
As well as taking in the beautiful sights at 30 knots around Northern Ireland - including Ballycastle Bay, the River Bann, and the Giants Causeway - they also rescued a pair out on a boat near Toome when their boat ran into trouble.
Fred said it was wonderful to see so many sights seeped in history. The cliffs and caves on the side of Rathlin are fantastic to see close up, " he said. "One is said to be the very cave that Robert the Bruce took refuge in and allegedly a rival clan came over from Scotland and, after massacring the men, they drove the women and children of these cliffs to their certain deaths." They then travelled to Giants Causeway where the Armada ship the Girona went down in1588.
There was unexpected adventure near Toome when they saw some men waving and shouting their boat was in trouble.
"Their engine had stopped and would not start and they had been drifting about for quite a while. We being the first boat they had seen all morning," Fred said.
Ulster Star
17/04/2009