Dunmurry High pupils get a taste of army life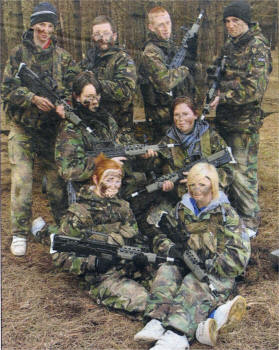 PUPILS from Dunmurry High School have had a chance to experience life as a soldier at the army base in Ballykinler. The pupils, aged between 14 and 18, were invited to spend the week living and breathing the army regime. Teenagers from five other schools also chose to spend a unique week out of classroom with the Army.
Each morning the students were up and active by 6:30am, and had the opportunity to experience many aspects of Army life; starting from critical duties required for sentry deployment, observation and patrols; leading up to specialist skills such as vehicle maintenance, radio use and the safe use of weaponry.
After this there were chances to relax with events such as an evening meal in the field and the opportunity to enjoy some paintballing.
Captain Amber Roach from the Army Recruiting Team said:
"It's fantastic to have local students participating in this 'boot camp' experience. It's a practical and fun way to give a real insight into our operations and the challenges faced by our troops everyday.
"The pupils follow the same protocols as we use for routine training and despite the physically demanding work, it never ceases to amaze me how enthusiastic they are.
"They really enjoy giving each part of the programme their all, and take pride in meeting every objective of a given task. "By the end of the week, they have so much confidence they want to do it all again!
"There are 140 different careers within the Army and schools will hopefully be using the Army Careers Exhibition which is being held at Thiepval barracks in Lisburn between the 4th and 8th of February to explore many more opportunities."
Ulster Star
30/01/2009