Cheshire Cat wins first prize for teddy bears picnic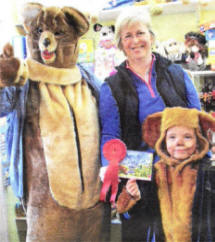 Shopkeeper Mimi Gorman receiving trophy for first place from '

re

al' Teddy bear Andrew Hewitt from Hillsborough's Picnic in the Park
TEDDY Bears picnic was the first theme for June's Picnic in the Park held on the first Sunday of the summer months at Hillsborough Fort from 2pm - 5pm.
Shopkeepers in Hillsborough were invited by jkevents to enter into the spirit of the festivities and create a Teddy Bears Picnic in their shop windows.
With eight entries all hoping to win first prize the competition was fierce and great effort was put in by all involved.
The Cheshire Cat in The Square scooped this month's top prize with a fantastic display complete with Fort, Teddies and Picnic antics. Patterson's Chemist in Ballynahinch Street came a very close second with their tranquil and realistic scene created with bark, real flowers, teddies and fir trees.
A few doors down Rooney's' opticians came in third with their cool teddies complete with this year's latest shades.
Check out the windows next' month when you come to Hillsborough for Picnic in the Park.
Bring a picnic and some friends and get ready, as Hillsborough Fort will come alive again with music. With free admission to the Fort there are expected to be large numbers of people coming back. Gates open at 2pm for three hours of music, food and entertainment.
For further information about all the Sundays and future events go to www.jkevents.co.uk
Ulster Star
17/07/2009