Every little helps, but residents still concerned by
Tesco expansion plan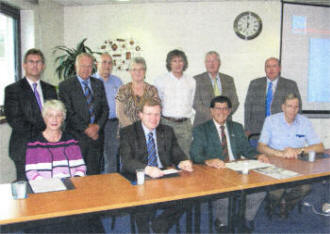 LOCAL residents opposed to Tesco's amended plans for an extension at Bentrim Road are being asked to write to the Planning Service with their concerns this weekend.
The Planning Service received a total of 643 objections to Tesco's original plans, but because of the amendments the objectors are urging local residents to write again with their concerns.
The advice comes days before the council's Planning Meeting on Monday which will consider the recommendation of the Planning Service to approve Tesco's amended proposal.
Residents were given the opportunity to air their views at a special meeting in the Civic Centre this week.
The meeting was chaired by Cllr Bill Gardiner-Watson, who is also Chairman of Lisburn Council Planning Committee, and was attended by MP Jeffrey Donaldson, MLA Jonathan Craig and councillors representing Lisburn North.
In March 2009 Tesco submitted amended plans to extend their Lisburn store.
The Benson Street Residents' Group say it would make it half as big again and repeated their 'Big enough as it is' slogan.
The group acknowledged there have have been changes to the original proposals including a new site for the filling station and the removal of the proposed car deck and part of the external extension.
However, secretary Mildred Briggs said that Tesco still need to address their concerns such as "environmental issues of transport, noise, landscaping, loss of residential amenity," and "massive extension in a residential area."
"Traffic remains horrendous at times", Mrs Briggs explained. "Even returning from one's place of worship on a Sunday around lunchtime it is difficult to manoeuvre."
She said that even people not living close to the store were I affected by traffic congestion. Many residents voiced their concerns at the meeting with one homeowner suggesting installing ramps and placing heavy weight restrictions on Benson Street and another telling how she could not get her car out of her driveway and had to park it on the street at 7.30 am each morning before rush hour Campaigners feared that though a large part of the Tesco extension would be intern al it would attract more customers and traffic.
Mr Donaldson told the meeting there was "nothing definite on where or when Tesco would be relocating their filling station".
He said he would like to see 'the whole picture' before planners gave a decision.
Similar comments were voiced by two other MLAs Edwin Poots and Trevor Lunn.
After the meeting Jonathan Craig said it was 'unfortunate' the application has not been fully sorted out with the residents. He said there was good reason to request a deferment on the application to get all the issues sorted out.
Ulster Star
03/07/2009