Emmerdale star bound for big Moira Fair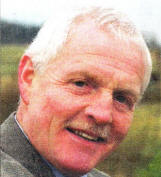 THE cad of the Dales, Eric Pollard from the hit TV soap Emmerdale, will be paying a visit to Moira this weekend when he will be the VIP guest at this year's National Countrysports Fair in the Demesne, on Saturday and Sunday (May 23-24).
Popular actor Chris Chittell will be attending the show, which is supported by Lisburn City Council and the Department of Arts, Leisure & Culture, all throughout tomorrow (Saturday) in a bid to help raise extra money for the Antony Nolan Trust, which is this year's charity.
The event, now in its 13th year, is expected to attract over 20,000 spectators and competitors from across Northern Ireland and the border counties.
New for this year's line up will be the world's only wing-walking aerobatic team, Team Guinot, which will perform a series of stunning loops, rolls and turns in their 1940s Boeing Stearman planes.
Adding another spectacular touch on the ground in the arena will be the Scottish group, Clann Na Drumma, which has performed at the Edinburgh Festival.
And to add a little humour and quaintness to the proceeding, there will be a Dog and Duck Derby.
In addition to the annual competitions in clay pigeon shooting, gundog handling, fly casting and tying, there will be the Love Olive International Food Festival where foods from around the world will be available; numerous displays and exhibitions for rural and competitive sports and new for this year, the Gunsmith's Corner. Much to the delight of seasoned fair fans, the Phoenix Falconry Display team will be back again. Fair organiser Bill Beckett said that the 2009 show was lining up to be the best ever.
"Whether you are young or old, involved in countrysports or not, with children or without, I can guarantee you that will find something for you to enjoy, take notice of and simply learn at this year's National Countrysports Fair.
"Some people come to compete, some come to shop and eat and some just like to entertained in a wonderful natural and welcoming surrounding that Moira Demesne is."
Daily entrance prices are £10 per adult and £3 for children over 5. Family tickets are available for £25, admitting 2 adults and 3 children over 5 (all children under 5 are free).
Ulster Star
22/05/2009