SPONSORSHIP NEEDED TO WELCOME TROOPS
HOME FROM AFGHANISTAN
Help sought to prepare a feast fit for heroes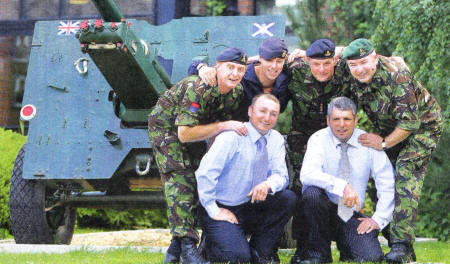 Sergeant Muir Philip and W02 Sergeant Major Gary Griffiths (front) with Major Sam Pinkney, Lance Corporal David Flounders, the Troop Commander and Sergeant Will Bennett, members of 40 Regiment Royal Artillery The Lowland Gunners', getting ready to welcome Lisburn soldiers currently serving in Afghanistan back to Lisburn.
US3209-502CD
PREPARATIONS are underway for a lavish homecoming for 40th Regiment Royal Artillery (The Lowland Gunners), who are due to return to their Thiepval Barracks home from Afghanistan in October.
The Rear Operations Team of the regiment are hard at work preparing a warm welcome for the troops who are currently serving in Helmand Province and they are hoping local people will assist in supporting the event. The Rear Operations Master Chef, Sergeant Muir Philip explained: "My Regiment are currently serving on what is proving to be an arduous and testing six month tour in Afghanistan.
"As part of the Rear Operations Team one of our many privileged duties is the organising of an appropriate event which will combine both a medal ceremony and a welcome home all ranks ball for the returning Regiment and their families.
"This will be an emotional and significant event for the returning soldiers, all the families and the Rear Operations Team.
"Our aim is to hold a superb function, catering for approximately 800 people, which will do justice to our serving soldiers and in some way acknowledge their courage and commitment during the past six months. "We are determined to organise an event that will not only have a `wow' factor for all concerned but will also be a function to remember.
"Our Regimental strength, while on operations, has also been reinforced with a contingent from the Australian Army. These soldiers also deserve a special 'thank you' from their HOME colleagues," he added.
The Lowland Gunners homecoming event will undoubtedly be costly and the Rear Operations Team is hoping that business people in the City of Lisburn will be generous with support in the form of finance or sponsorship.
The people of Lisburn have always supported personnel within Thiepval Barracks and we will be most grateful if this support continues for our homecoming event,' concluded Sergeant Philip.
If you would like to offer support or sponsorship please email Sergeant Muir Philip at ra40@hotmail.com.
julieann.spence@ulsterstar.co.uk
Ulster Star
14/08/2009