Music workshop shows Laurelhill pupils
the importance of working together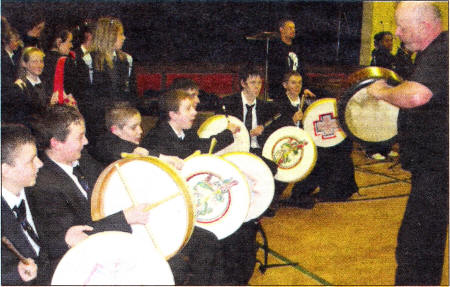 Pupils taking part in the Motion Project workshop
PUPILS at Laurelhill Community College recently took part in a musical workshop courtesy of The Motion Project, a multi cultural music collective which aims to teach young people the importance of working together.
The enthusiastic students enjoyed the opportunity to demonstrate their musical and improvisational skills.
The Motion Project aims to address racism and sectarianism in Northern Ireland by showing how individuality can produce something far more attractive and unique when people work together.
Some of the countries so far represented in the Motion Project are: Poland, China, South Africa, the Irish Republic, Venezuela, India, England, New Zealand, Iran, Slovakia, Zimbabwe, Scotland, Sri-Lanka, Mexico, France, Columbia, Switzerland and Nepal.
Ulster Star
06/02/2009