The swinging saxophones thrill at Edenmore Golf Club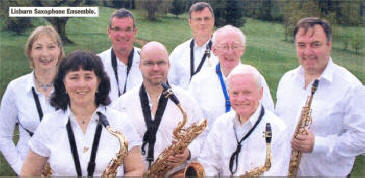 THE Lisburn Saxophone Ensemble (LSE) [brined a packed audience on Saturday at Edenmore Golf and Country Club.
The musicians of this unique group, under their leader, Victor Currie, played a programme of saxophone hits from the past to the present day.
The event was a fund-raising effort to enable the saxophonists to purchase their own up-to-date sound and recording system - and CD.
Victor Currie, a teacher of music at Dromore High School; successfully runs his own band. "At Edenmore it was music to suit all tastes," he said. "Our programme included big band swing and jive numbers. Also rhythm and blues."
The LSE has been in existence for just over two years.
Victor said: "Our motto might well be 'It don't mean a thing if it ain't got that swing' but we also enjoy other forms of music -Latin; light classical pieces and contemporary."
The LSE has been in existence for just over two years its youngest member is 17 year old Nathan Murray, is featured on alto saxophone. The LSE features a range of instruments - soprano, alto, tenor and baritone saxophones.
The ensemble is seeking a drummer - budding percussionists who might like to tackle these varied styles may contact Victor Currie 028 9267 2056.
Ulster Star
08/05/2009