Animal lover Tiffany is crowned top UK challenger
by STACEY HEANEY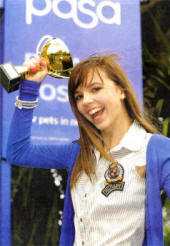 LISBURN girl Tiffany Slowick has been crowned the annual PDSA PetAid Challenge UK winner for her fundraising efforts for the leading veterinary charity.
14-year-old Tiffany, a pupil at Wallace High School" was presented with her trophy at a special ceremony on Wednesday May 27, where she also received a rare behind-the scenes tour of Belfast PDSA PetAid hospital. The PDSA PetAid Challenge is a way for young people to use their skills and hobbies to have fun" get active and raise money for PDSA.
"Tiffany's efforts have made her one of our best PetAid challengers," says Vicki Craighill" Young PDSA Manager. "Since she started fundraising last year" Tiffany has completed four challenges and even asked her friends to make donations instead of buying birthday presents for her. She has raised vital funds for pets in need of vets. "PDSA is lucky to have the support of young animal-lovers like Tiffany."
Commenting on her achievement" Tiffany said: "I was really shocked when PDSA told me I had won the PetAid Challenger of the Year. I've always loved animals and wanted to help PDSA care for sick and injured pets. I really enjoyed doing the challenges, it was such fun."
PDSA PetAid Challenge participants over the age of 14 can also count the time they spend on a challenge towards the Service Section of the Duke of Edinburgh Award.
For a free PDSA PetAid Challenge pack" please call freephone 0800 854194" email petaidchallenge@pdsa.org.uk or write to PDSA PetAid Challenge, Unit 9" City Business Centre" Hyde Street" Winchester S023 7TA.
stacey.heaney@ulsterstar.co.uk
Ulster Star
12/06/2009