TinyLife links up with Baby Maids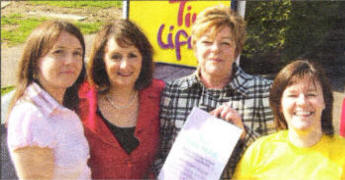 TINYLIFE, Northern Ireland's Premature Baby Charity has announced a new partnership with Baby Maids, a new home cleaning service for mums now available throughout Lisburn, County Down and greater Belfast.
Deirdre Brady CEO of TinyLife commented: "It is really important to have the support of local business. The Baby Maids and TinyLife partnership is a perfect match, having a new baby is a life changing experience and the unique service Baby Maids offers will be a welcome boost to mums before and after the birth. "
Karen Thompson, Director of Baby Maids, said: "Pregnancy ought to be one of the happiest times in your life and the stress of heavy household chores can spoil it. Running a home is no easy task, mums just make it look easy.
"After consultation with the client our professional cleaning staff can offer a pre-birth one off clean, weekly clean or a home coming one off clean. We have found many mums just love a practical gift of this nature."
Further information on TinyLife visit www.tinylife.org.uk or Baby Maids www.babymaids.co.uk
Ulster Star
17/04/2009