Tributes paid to man who 'loved helping others'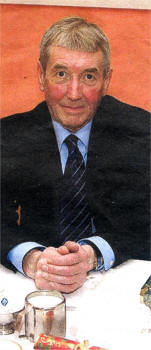 WELL KNOWN community worker Tom Cairns, who passed away last week, has been described by his sister as a man who 'loved helping others'.
Margaret Coburn said her brother, who was the founding member of Drumlough Community Association, would be very much missed in his family and beyond. Tom (64) died at the Royal Victoria Hospital after an illness.
He was chairman of Drumlough Community Association for many years and organised the popular annual Road Race and Fun Run.
Born at Clogher Road, he married a local girl Heather and lived most of his life at Drumlough Road. The couple had one son Marc (18).
As well as his sister, Tom had two brothers Bobby and Roy. Roy died at the age of five after a short illness. After attending the local primary school and Dromore High Tom worked at Fergie 'Dornan's filling station in Lisburn. More recently he had been working for local MLA Basil McCrea.
He was the driving force behind many schemes and worked tirelessly for the community. He helped get a passing bay at the Clogher Road, sight lines improved at Drumlough Road and a road widening scheme for Rafferty's Hill.
Among his many passions was cricket and he was a table tennis coach at the local church hall.
A spokesperson for the Drumlough Community Association said Tom would be very sadly missed.
We will all miss Tom very much. He was a tireless campaigner. Tom always made time for you, if you needed help you could rely on him." He sat at a number of committees including the Police Liaison Committee, TADA and Lagan Valley Rural Transport.
At their AGM on May 21 the group will mark Tom's death with a minute's silence. They are also hoping to rename the Road Race in his honour.
His sister Margaret said despite an active and busy life he always made time for his family.
"He would always help me out when he could," she said. "He was a good brother and was always there for me. He was a great character and a great brother. He was always running about and helping others. He was also very witty."
Tom was nominated for the Volunteer of the Year Award by Lisburn City Council.
Alderman Ivan Davis paid tribute to him.
"I had known Tom for very many years" he said. "He was a man dedicated to community work and was always endeavouring to help others. "Tom will be sadly missed and there would have been no better tribute paid to him than to witness the very large turnout at Drumlough Presbyterian Church last Saturday afternoon for the service of Thanksgiving and to his wife Heather son Marc and family circle I would extend by deepest sympathy."
Ulster Star
01/02/2009