Enterprising students win a trip to the Arctic Circle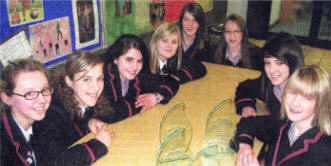 MEMBERS of Wallace High School's Young Enterprise Company are preparing to represent Northern Ireland at a major European trade fair in a city which lies north of the Arctic Circle and at the very end of Norway's rail system.
'Kaleidoscope, which produces a book aimed at children about days out in the province, fought off tough competition from other schools to sweep the boards at a recent Young Enterprise Trade Fair in Bangor's Bloomfield Shopping Centre.
The sixth form students secured awards for product, innovation and marketing as well as the overall winner accolade.
Their string of success also includes awards for innovation at both Connswater and Fairhill Shopping Centres.
Managing Director Lindsey Freeman paid tribute to the hard work of her staff.
"We've had a lot of fun working on our product and all aspects of the business. We started the company as part of our Sixth Form Enrichment Programme and can't believe the incredible reaction to our children's book which is aimed at encouraging young people to take an interest in days out around Northern Ireland," she said.
Lindsey also said Kaleidescope had received 'fantastic support' from Suzanne Lutton of Lisburn City Council and teacher Ms Neill.
The company's IT Director Kimberley Hammonds added: "We're really looking forward to our trip to Norway and we want to make sure we do our best representing Northern Ireland there."
The trade fair will take place from May 8 to 11 in Bodo, a city of just 46,000 people.
Although there is no true polar night in the city its residents do not see any sun between early December and early January because of mountains to the south.
The total sun hours average for May is 218 -around seven per day - and this really is about as good as it gets because the highest monthly average - June - is just three hours more at 221.
Ulster Star
20/03/2009