US franchise moves into a new home in Dunmurry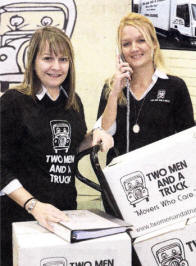 DESPITE the economic downturn a new International removals company, the first in Europe outside Dublin, has recently opened in Dunmurry.
The Northern Ireland franchise for Two Men and a Truck began trading last month with husband and wife team Aidan and Tara Lees at the helm and Tara's sister Emma Dougal managing the business.
Founded in 1985 as a local home and business moving company, Two Men and a Truck has since grown to include a truck fleet of more than 1,300.
The Michigan based corporation is the world's largest franchised local moving company with more than 200
locations currently operating throughout the US, Canada, Ireland and now in Northern Ireland.
Two Men and a Truck Belfast have already completed a number of local moves with further bookings secured for the New Year.
Staff have been extensively trained in all aspects of the Two Men and a Truck system in America.
Aidan Lees commented, "The focus is to make any move as stress-free as possible".
Two Men and a Truck say their goal is to make the move to your new home or office as smooth and as simple as possible.
Their services range from partial to complete packing, moving, and unpacking to pick-up and delivery. They donate 1% of their annual revenue to local charities and help charities throughout the year as much as possible.
Two Men and a Truck operate from Anna House at Upper Dunmurry Lane.
Ulster Star
16/01/2009